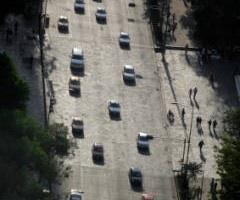 Which part of this street looks like a mountain to you? To me, it is much flatter than that, with more cars than mountain goats. What is really missing, in an entire fleet of Harley-Davidson motorcycles. But wait, I'm getting ahead of myself in this story about the innocent title of "Mountain View Room" in Mazatlan.
It all started with the recommendation of a fabulous hotel on the beach. The hotel itself was a delight, with sprawling swimming pools and gardens overlooking the crashing waves of the ocean. There were outdoor palapas serving drinks and dinner, and open-air coffee bars surrounded by beautiful tile and leather furniture. All with a view of the ocean. So naturally, knowing we would be by the ocean every day ... I made a fatal error of selecting "Mountain View Room" in Mazatlan, to save a paltry $10 per night. And there began the vacation from hell.
We checked into the hotel in the evening, found the ocean to the front, as beautiful as expected, and then retired to our room on the opposite side of the hotel: the mountain side. Outside our window on the horizon were some grey little bumps.
Much closer to home, there was a freeway full of the noisiest traffic imaginable. Open air taxis were honking their horns continuously, belching buses rattled by, and engines revved in all gears. Best of all were the squads of motorcycle enthusiasts, who had descended on Mazatlan for Mexican motorcycle appreciation week. I tell you no lies. There were at least 150 motorcycles in the parking lots and roadways by our hotel.
There were no Oceanview rooms available for three days so we hunkered down. Placing a mattress over the window, turning on the air conditioning full blast for white noise, and wearing earplugs seemed do the trick, allowing us to sleep at night.
Then, on the fourth day, we got our reprieve: an Oceanview room, with quiet balcony, and the gentle lapping of the waves, under a broad band of soft tangerine sunset. Sheer bliss. All ended well, with margaritas in a toast to the ocean. All was not lost. The ocean was mesmerizing. The beaches were endless. And at least half of the hotel was the Paradise promised.