Car Rental Agency Comparison By City
What is the Renter Rated™ System?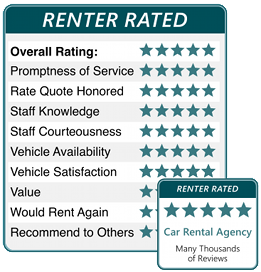 Choosing the best rental agency for your needs can be tough - that's why Car Rental Express created the Renter Rated program.
We let renters, just like you, give their feedback on agencies, scoring them on everything from "Staff Knowledge" to "Promptness of Service".
This ensures you can make an informed decision nd enjoy a rental that meets your budget and expectations.
Reason to Love Renter Rated
Real reviews from real people
Compare reviews by city
Easy to read ratings, plus a specific breakdown
Assurance of reliability and quality
Increase information and confidence
Read review comments from renters
More reasons for Renter Rating at Car Rental Express
Renters at Car Rental Express are the best judges of their own rental experience. Our Rate & Win contest encourages renters to share their experience with all new visitors to our reservation website. A five star Renter Rating allows agency rating in the following value and service categories: Promptness of Service; Rate Quote Honored; Staff Knowledge; Staff Courteousness; Vehicle Availability; Vehicle Satisfaction; Fair Policies; Value; Would Rent Again; Would Recommend to Others.
Past renters' experiences are broken down in the Renter Rating and subsequently benefit new online visitors for the following significant reasons:
Objective and varied opinions
City-specific index comparison
Easy to read general rating, plus a ratings breakdown
Assurance of reliability and quality
Increased information and confidence
Targeting of most important areas of service
Rate and win contest participants build up and maintain the Renter Rating for car rental agencies listed at Car Rental Express. This, along with the Car Rental Express agency comparison by city ultimately provides the best rental service to future customers. Rate an agency now or read the FAQs.
Agency Comparison within Cities:
The Car Rental Express website provides agency comparison in cities. It compares the various aspects of rental companies that are of interest to you, the renter. Criteria listed are: Years in business; Minimum Age; Airport Service; Local Area Pickup/Dropoffs and Vehicle Types.
When you select the city where you want to rent, click on "Compare Agencies" to get a detailed comparison of the above mentioned criteria.
In combination with the Renter Ratings of car rental agencies, this agency comparison data makes it possible to find the most suitable match for your car rental needs.
Take Advantage of Renter Ratings
Compare Agencies by City
Enter the City or Airport name below to get Rate Quotes and Renter Ratings for independent car rental agencies around the world
About Agency Comparison
The Agency Comparison gives you valuable information on 100's of independent agencies in over 2,000 cities, worldwide. You can quickly read about each agency's history, services, and rental policies. Combined with the Renter Rated™ reviews, provided by renters like yourself, you'll find the most suitable match for your car rental needs. This unique combination makes Car Rental Express the web's best reservation guide to independent car rental agencies.
Rate your last rental!
Read the FAQs.
Check out the Renter Rated comments for many agencies here.