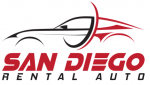 You are renting with
SD Rental Auto Corporation
Company Profile
---
Pickup / Dropoff Services
SD Rental Auto Corporation provides pickup / dropoff services. Free local pickup/dropoff service at anytime 3430 Hancock St San Diego, CA 92110
---
Airport Service
SD Rental Auto Corporation provides airport pickup and dropoff services. Pickup/Dropoff From The Airport Paid Service.
---
We serve the following markets
Travellers
Local Renters
Tour Groups
Government
Military
Airline Employees
Travel Agents
Students / Young Drivers
Long Term Renters
Special Group Rates
Conventions / Special Events
Corporate Clients
---
---
Age Requirements
Minimum Age: 21
---
---
Locations and Local Area
SD Rental Auto Corporation has the following locations:
San Diego Rental Auto(San Diego, CA)
Our company location is 2.8 miles away from SAN Int'l Airport Car Rental Center.
---
Corporate Address
SD Rental Auto Corporation
3430 Hancock St
San Diogo, CA 92110United States
---
We rent the following types of vehicles
Trucks
Vans
SUVs
Cars
Specialty
Exotics
Luxury
Motorcycles