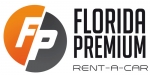 You are renting with
Florida Premium Rentacar
Company Profile
---
Airport Service
Florida Premium Rentacar provides airport pickup and dropoff services. MIAMI AIRPORT: After customs and picking up your luggage, please call us toll free to 1800-6509347 from your phone or any public telephone at the terminal. Our team will assist you with further instructions and provide transportation to our facilities.Please do not go to the Car Rental Center since we will pick you up at the terminal. If you wish, you can text or whatsapp to 786-6636548.
---
We serve the following markets
Association Members (AAA / AARP)
Travellers
Local Renters
Tour Groups
Conventions / Special Events
Insurance Replacement Rentals
Travel Agents
Airline Employees
Corporate Clients
Travelers
---
Special Services
Airport pickup
---
Age Requirements
Minimum Age: 21Minimum age for renters and drivers is 21. Renters and drivers under the age of 25 are subject to a surcharge. UNDER AGE 25 SURCHARGE is USD/15.00 to USD/25.00 per day per driver.
---
Cash Deposit Rentals
Florida Premium Rentacar accepts cash deposit rentals.Conditions Apply. please call 1800-6509347 for more information.
---
Locations and Local Area
Florida Premium Rentacar has the following locations:
Miami International Airport(Miami, FL)
MIAMI(Miami, FL)
Miami international Airport
---
Corporate Address
Florida Premium Rentacar
3961 Nw 26th St
Miami, FL 33142United States
---
We rent the following types of vehicles