Three
Perfect American Summer Road Trips
Submitted by
Anonymous (not verified)
on Thu, 07/14/2016 - 10:41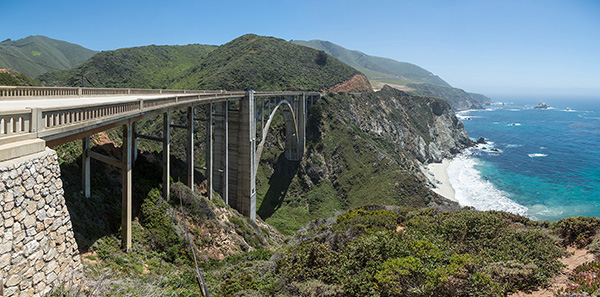 We're officially in the heart of road trip season. If you've ever dreamed of driving a car (or a van, truck… you name it) on a cross-country adventure, July, August and early September are the perfect times to make it happen. All you need is the right hybrid car rental and a map.
But where should you go? It's a big, beautiful country, and it would take months—or even years—to see all of it. And since most people have responsibilities like jobs and households and families, a week or two is typically the longest they can allow for a road trip. The good news is that you can see quite a bit of stunning scenery in a short amount of time.
Whatever route you choose, we definitely suggest taking a rental car to avoid wear and tear on your own vehicle. Plus, you can rent something that will best suit your needs for this specific trip, which your current vehicle might not be well-suited for. Check Car Rental Express for car rental deals before you decide on your perfect ride. 
After securing the perfect ride comes choosing the perfect route. If road trip planning isn't your strong suit, give one of these routes a try. Each one covers a different part of the country, so you'll have options no matter where your home base is. Enjoy!
The Pacific Coast Highway
The West Coast is a beautiful place, and the Pacific Northwest is especially stunning. Whether you've lived on the west side your entire life or you've always wanted to check it out, a coastal road trip is a wonderful way to explore.
You can start in California and drive north, but we'd recommend starting up in Washington close to the Canadian border and driving all the way down. Some of the most jaw-dropping scenery lies in between Washington and Santa Barbara. 
The Pacific Coast Highway route will take you down Highway 101, and the driving ranges from easy to slow-moving. Some of the highlights include the Olympic Peninsula, with picturesque towns like Port Angeles and Sequim, the Oregon Coast (Cannon Beach and Coos Bay are especially scenic and lovely), and California's Monterey Peninsula. Don't miss Mendocino and Eureka, which are north of San Francisco.
Your trip will end in the beautiful San Diego area, which is a perfect summertime destination. Relax on its sandy beaches or head into the city for some shopping and fine dining. 
The Delaware Water Gap, Pennsylvania and New York 
Take Interstate 80 from Pennsylvania to New York and you'll drive right over the Delaware Water Gap. The river through the gap runs about 283 feet above sea level, and you'll see the stunning views of the Blue Mountains. It's hard to keep your eyes on the road as you explore the evidence of the natural forces that constrict the Delaware River here, so make sure you get out and stretch your legs at a viewpoint. 
Start your trip in the historical town of Harrisburg, where you can explore attractions like the National Civil War Museum or the nearby Hersheypark. Head to Interstate 80 via I-81 North, stopping when you hit the Delaware Water Gap to explore. When you're ready, you'll continue down I-80 and pass through some charming small towns before landing in the middle of the craziness of New York. If you can make it here, you can make it anywhere… and that definitely includes driving. But don't worry, it's really not that bad. Just avoid rush hour if you can.
Tail of the Dragon: Tennessee, North Carolina and South Carolina
The official Tail of the Dragon road is only 11 miles, and it's full of sharp curves and thrills. But driving down a road that was featured in the movie "The Fugitive" (it was also seen in "Two Lane Blacktop") will earn you some bragging rights. It will lead you through some beautiful country, but if you're driving, you'll want to keep both eyes on the road.
Start your journey in Knoxville, a city rich in culture and natural beauty. Eat a hearty breakfast at the delicious Plaid Apron before heading south to the Tail of the Dragon, which is just over the North Carolina border. Take Highway 74 to Asheville, where attractions like the Blue Ridge Parkway and the Botanical Gardens at Asheville await you. Since every summer road trip is better with a beach, we recommend spending the night here and then continuing the drive the next day all the way to Myrtle Beach, South Carolina.
Myrtle Beach is one of the best summer destinations in the country. It might be crowded and hot, but there's a lot of fun to be had. Don't miss catching the views from the Myrtle Beach SkyWheel or spending plenty of time at the top tourist destination, Broadway at the Beach. 
Safe travels!