Here's
Where To Travel For Independence Day
Submitted by
Anonymous (not verified)
on Sun, 06/19/2016 - 07:58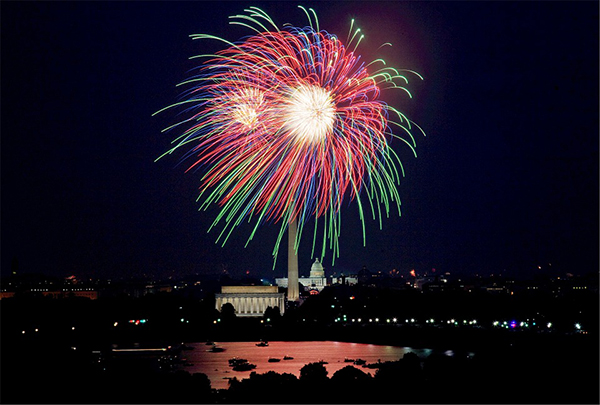 The Fourth of July might be on a Monday this year, but that doesn't mean you can't travel for the holiday. In fact, we think a Monday Independence Day is a wonderful excuse for kicking off a week-long vacation. But even if you only manage to get July 4th and 5th off from work, you'll still have an extra-long weekend you can use for visiting some amazing new places.
Why travel on the Fourth of July? For one, it's usually a paid holiday for many American workers and therefore worth using to travel. Many of us associate Independence Day with celebrating our freedom, and nothing says "I'm free" like hopping a flight, climbing into a sports car rental and cruising to a beautiful new destination… or visiting your family… or whatever your heart desires. Plus, it's just plain fun to check out parades, fireworks shows and other traditions in new cities.
Depending on the kind of experience you'd like to have, you can go somewhere vibrant and bustling or somewhere that has a more laid back vibe. Wherever you end up going, make sure to check car rental company reviews before you commit to one. It's important to research all of your travel options (hotels and airlines, too) but having an enjoyable rental car experience can really make your trip special.
Are you considering a Fourth of July getaway? Here are some of the best spots in the USA to visit this Independence Day:
Las Vegas
Yes, Las Vegas can be shockingly hot in July. Yes, you'll have to park your rental car and cab it or walk if you stay on the Strip. But the fact is, Sin City is an excellent option for spending your Independence Day. It's one of the less popular holidays to spend here, so you can usually find great deals on hotel rooms. You'll have your choice of fireworks shows including the Stratosphere, Caesar's Palace, Mandalay Bay or Boulder City if you don't mind a bit of a drive. And most importantly, nothing says "I'm an American" like enjoying the glitz, glamour, overindulgence and party vibe that only Vegas has.
Denver
If you have a family (or just don't mind kids), Denver is a wonderful place to spend the Fourth. Along with all the fun Fourth of July activities, you can usually count on enjoying weather that is perfectly comfortable without being too hot. Enjoy the Elitch Gardens Theme & Water Park, which has a brilliant fireworks display that lights up the night at dusk.This is the perfect city to enjoy a laid back Fourth. 
Seattle
Seattleites live for their summers, and the really beautiful weather tends to show up in early July. Whether you have young children or you're embarking on an adults-only trip, Seattle will have something amazing to offer for the holiday weekend. The highlight of the day is the epic fireworks show at Gas Works Park, which can be seen throughout most of the city. Gas Works itself is always packed all day, so if you'd prefer to spend the holiday at the park, get there very early so you can stake out a great spot. 
Memphis
Barbecue: check. Eccentric ambiance: check. Picnics, parades and fireworks: check. If you don't mind a little (OK, a lot of) heat, you'll love visiting Memphis for the Fourth of July weekend. Residents are friendly and everyone is in celebration mode on the Fourth. 
Seaside
This little beach town on the Oregon Coast just happens to be home to the biggest fireworks show on the West Coast. Hotel rooms book up months and months in advance (though you can often find condo rentals and places to stay in nearby towns last-minute), and the early risers claim the best spots on the beach. Still, it's worth a visit. The crowds are typically friendly, and the weather tends to be a pleasant 75 degrees or even a bit cooler. You can fly into the Portland airport, get a hybrid car rental and make the two hour drive to the coast.
Boston
Can you think of a better place to celebrate the birth of America than this city, which is so full of American history? The city of Boston spares no expense when it comes to putting on an amazing Fourth of July. The Boston Pops Fireworks Spectacular has been a hit for four decades, and it's quite a sight to behold. The event does draw a half million people, so definitely come prepared if you decide to check it out. Dress appropriately (layers, comfortable shoes, sunscreen), and decide on your best transportation options early. If you stay in Boston proper, leave your rental car parked at your hotel and use public transportation. Otherwise, plan on parking in a nearby town and taking the train in.
Chicago
The city of Chicago really knows how to celebrate Independence Day. There's a parade, a major fireworks display and all sorts of specials for the shoppers and foodies. The Fourth of July at Navy Pier is a magical experience you won't want to miss. 
Enjoy this classic American holiday!