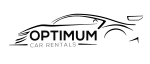 You are renting with
OPTIMUM CAR RENTALS
Company Profile
History
We are a rental car company located near the Toronto Airport with competitive rates for incoming customers to the GTAA. We do insurance replacement rentals as well as retail rental rentals for the visitors to the GTAA.Years in business: 4 Real Reviews From Real Renters
---
Pickup / Dropoff Services
OPTIMUM CAR RENTALS provides pickup / dropoff services. We offer limited pickup and drop-off to local areas, this will be determined on a case by case basis.
---
Airport Service
OPTIMUM CAR RENTALS provides shuttle service to and from the airport. We will pick up and drop off customers to and from the Toronto Airport hub which is Viscount station. The Airport Tram will move the customers to their respective terminals for flights.
---
We serve the following markets
Students / Young Drivers
Local Renters
Travellers
Insurance Replacement Rentals
Travel Agents
Corporate Clients
We do specialize in Insurance Replacement rentals for all makes and models of cars, SUVs, and mInivans. Our location is 7 mins from the Toronto Airport Terminal locations which make for a convenient location to serve the arriving Airport customer visiting our city.
---
Special Services
Shuttle service to and from the Toronto Airport for pick-up and drop-off is available to customers during hours of operation. After hour arrangements can be confirmed with staff if and when requested by customers to accommodate the travel times which sometimes are outside of Rental Office hours.
---
Age Requirements
Minimum Age: 23Renters are required to be 23 years or older to be permitted to rent and underage fees apply to any underage renter listed on your policy.
---
Cash Deposit Rentals
We will require authorization to be held on a major credit card for rental purposes which will be the total rental amount plus one day extra for security.
---
Locations and Local Area
OPTIMUM CAR RENTALS has the following locations:
TORONTO, ON (YYZ)(Toronto, ON)
We service the regions of Toronto, Mississauga, and Brampton within a 20 km area of the Rental Office. The office is located at 11 Belfield Rd and is 5 min drive to a major shopping center, Racetrack, and restaurants and eminities.
---
Corporate Address
OPTIMUM CAR RENTALS
11 Belfield Road
Toronto, ON M9W 1E8Canada
---
We rent the following types of vehicles
Cars
Vans
SUVs
Luxury
Specialty