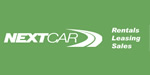 You are renting with
Nextcar
Company Profile
History
We are the Mid Atlantic's largest independently owned and operated car rental company, with over 15 locations serving the Maryland, DC and Northern Virginia area! Nextcar features the most diverse selection of new vehicles in the area with quality customer service at competitive rates. We offer everything from 2 door smart cars, hybrids and economy vehicles, to full size and luxury sedans, minivans and SUVS, cargo vehicles and everything in between. Years in business: 10 Real Reviews From Real Renters
---
Pickup / Dropoff Services
Nextcar provides pickup / dropoff services.
---
Airport Service
No airport service.
---
We serve the following markets
Government
Military
Airline Employees
Travel Agents
Insurance Replacement Rentals
Students / Young Drivers
Long Term Renters
Special Group Rates
Tour Groups
Local Renters
Travellers
Association Members (AAA / AARP)
Corporate Clients
We offer rentals to individuals and organizations including government agencies, film and video production companies, contractors, universities and service academies, large and small companies, churches, synagogues and other religious institutions.
---
Special Services
We offer 24/7 roadside service, pick up and drop off.
---
Age Requirements
Minimum Age: 21
---
Cash Deposit Rentals
We accept debit cards at all of our locations and prepaid debit cards at select locations. We do not accept cash.
---
Locations and Local Area
Nextcar has the following locations:
NextCar of Timonium(Timonium, MD)
Lexington Park(Lexington Park, Maryl)
Frederick(Frederick, Maryl)
Baltimore-Washington Int'l Airport(Hanover, Maryl)
Baltimore(Baltimore, Maryl)
Rockville - North(Rockville, Maryl)
Wheaton - North(Wheaton, Maryl)
Laurel - South(Laurel, Maryl)
Gaithersburg - North(Gaithersburg, Maryl)
Gaithersburg - South(Gaithersburg, Maryl)
Camp Springs(Morningside, Maryl)
Annapolis(Annapolis, Maryl)
Baltimore - East(Baltimore, Maryl)
NextCar of Clearwater(Clearwater, FL)
Orlando Intl Airport(Orlando, Flori)
Miami Intl Airport(Miami, Flori)
Fort Lauderdale Intl Airport(Fort Lauderdale, Flori)
Juan Santa Maria Intl Airport(Alajuela, Costa Rica)
Richmond Hill, ON(Richmond Hill, ON)
St. Maarten Intl Airport(Simpson Bay, Sint )
San Juan Intl Airport(Carolina, Puert)
Seattle - Tacoma Intl Airport(SeaTac, Washi)
Philadelphia Intl Airport(Tinicum Township, Penns)
NAS Patuxent River(Lexington Park, MD)
Los Angeles Intl Airport(Los Angeles, Calif)
Kensington - South(North Bethesda, Maryl)
Yerevan - Downtown(Yerevan, Yerev)
Zvartnots International Airport(Yerevan, Yerev)
Bozeman Yellowstone Intl Airport(Bozeman, Monta)
Baltimore - West(Baltimore, Maryl)
Bozeman(Bozeman, Monta)
Baltimore - Liberty Road(Baltimore, Maryl)
Aguadilla Intl Airport(Aguadilla Pueblo, Aguad)
Baltimore - North(Baltimore, MD)
Meadows Field Airport(Bakersfield, CA)
Aukland International Airport(Auckland, Auckl)
Joint Base Andrews(Suitland, MD)
Toronto Pearson Int'l Airport(Toronto, ON)
Yerevan - Downtown(Yerevan, Yerev)
Tallahassee Intl Airport(Tallahassee, FL)
Vancouver Intl Airport(Richmond, BC)
Vancouver Hastings(Vancouver, Briti)
Sanford Intl Airport(Sanford, Flori)
Reykjavik(Keflavik, N/A)
Turks and Caicos(Providenciales, Caico)
Franklin Park(Franklin Park, Illin)
Guatemala City( Guatemala, Guate)
O'Hare Int'l Airport(Franklin Park, Illin)
Montego Bay International Airport(Montego Bay, St. J)
Vancouver(Vancouver, Briti)
Medellin(Medellin, Antio)
Cincinnati(Cincinnati, Ohio)
Tampa Int'l Airport(Tampa, Flori)
Port Jervis(Port Jervis, New Y)
Our 15 locations in and around the Baltimore Washington DC Metro area are convenient to the many attractions the area has to offer. Enjoy the wonderful historical attractions that DC offers free to the public, like the White House, The Washington Monument and the Lincoln Memorial and world class museums like the Smithsonian Natural History, Air & Space and the National Art gallery. Baltimore has its own charms with the fabulous Inner Harbor, National Aquarium and Science Center, along with shopping and dining in the contemporary and classic sections of the city. Sports enthusiasts can take in NFL football either with the Redskins or the Ravens, MLB baseball with the Orioles or Nationals, NHL Hacky with the Capitals or NBA Basketball with the Wizards, and enjoy horse racing at Pimlico or Laurel Park. University of Maryland, the Naval Academy, Johns Hopkins and Georgetown are but a few of the many great universities and service academies in the area. Casino gaming is now offered at Maryland Live, convenient to our Annapolis and Luarel, MD locations.
---
Corporate Address
Nextcar
13900 Laurel Lakes Ave, Suite 100
Laurel, MD 20707United States
---
We rent the following types of vehicles
Cars
Vans
SUVs
Trucks
Luxury
Specialty