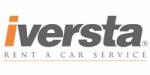 You are renting with
Iversta Rentals Inc.
Company Profile
History
Thank you for your interest in the services of Iversta Car Rental! We are proud to present our growing brand on the car rental market of Canada. Our business objective is to deliver best possible car rental services at the best price. The rental fleet our company maintains is carefully selected and well maintained to make sure you get the best choice while staying within your budget. One of the busiest location of Iversta Rentals is our rental location near the Pearson International Airport. It is conveniently located just within the few minutes time to drive from the Terminal 3 and Terminal 1 of the Pearson Airport. And our rental rates are much lower compare to the airport car rental operators. To make it really easy for you we provide the shuttle service for our airport customers. Please contact us for any questions or inquiries!Years in business: 7 Real Reviews From Real Renters
---
Pickup / Dropoff Services
Iversta Rentals Inc. provides pickup / dropoff services. Iversta Car Rental provides local pickups and dropoffs for our customers within selected service boundaries (please contact our office to get more information on this).
---
Airport Service
Iversta Rentals Inc. provides shuttle service to and from the airport. Iversta Car Rental provides shuttle services for our airport customers. Please contact our office when processing your airport reservation to discuss the best option available for your airport shuttle and pickup.
---
We serve the following markets
Conventions / Special Events
Special Group Rates
Long Term Renters
Government
Military
Airline Employees
Travel Agents
Insurance Replacement Rentals
Association Members (AAA / AARP)
Travellers
Local Renters
Tour Groups
Corporate Clients
Iversta Rentals is specializing on travelers rentals, insurance replacement and long time rentals.
---
Special Services
We provide shuttle services for our airport customers. Also we provide vehicles delivery in the selected city boundaries for additional fees (please contact our customer service to get the rates).
---
Age Requirements
Minimum Age: 24
---
Cash Deposit Rentals
We dont accept cash deposits however if you want to pay cash at the end of your rental you are most welcome to do so (it does not eliminate the requirements to have the funds blocked on your credit card before your rental starts).
---
Locations and Local Area
Iversta Rentals Inc. has the following locations:
Toronto Pearson International Airport(Mississauga, ON)
Mississauga(Mississauga, ON)
Toronto GTA(Toronto, ON)
Our airport office location is conveniently located just in 10 minutes drive from the Toronto Pearson Airport and we provide shuttle services for airport customers. Our Richmond Hill rental location is servicing the area of Richmond Hill and Markham with vehicles delivery in selected areas (please contact our office to have more information about the city deliveries).
---
Corporate Address
Iversta Rentals Inc.
Suite 5, 6305 Northam Drive
Mississauga, ON L4V 1W9Canada
---
We rent the following types of vehicles
Vans
SUVs
Trucks
Cars
Specialty
We carefully select the vehicles for our fleet and maintain it in good condition. We have strict non-smoking policy for all our vehicles.