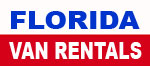 You are renting with
Florida Van Rentals Inc.
Company Profile
History
Florida Van Rentals is a family owned and operated company located in Orlando since 2000. We have now expanded to Tampa, Miami, Miami Beach, Palm Beach, Boca Raton , Port Everglades Cruise Ports and Ft. Lauderdale to better serve our customers. We specialize in renting 7 passenger, 8 passengers, 12 passengers, 15 passengers, 15 passenger specialty minibuses, 12 & 15 Passenger Mercedes Sprinters and Wheelchair Handicap Accessible Vans.Years in business: 13 Real Reviews From Real Renters
---
Pickup / Dropoff Services
Florida Van Rentals Inc. provides pickup / dropoff services.
---
Airport Service
Florida Van Rentals Inc. provides airport pickup and dropoff services. Florida Van Rentals provides shuttle service to and from the airport. Florida Van Rentals is just minutes from the airport. Customer's arriving at the airport are asked to call after gathering luggage to get pickup instructions.
---
We serve the following markets
Students / Young Drivers
Government
Military
Airline Employees
Travel Agents
Insurance Replacement Rentals
Association Members (AAA / AARP)
Travellers
Local Renters
Tour Groups
Conventions / Special Events
Special Group Rates
Long Term Renters
Corporate Clients
Specialty, Vans, Mercedes Sprinters
---
Special Services
Our office is located 7 minutes from the Orlando Airport. We service Sanford , Tampa, Boca Raton, Ft. Lauderdale , Miami , Port Everglades Cruise Ports and Palm Beach International airports and provide free shuttles during operating hours. Are you arriving after hours? We can accomodate your reservation with prior arrangements.
---
Age Requirements
Minimum Age: 21Anyone between the ages 21 and 24 is required to have their own full coverage car insurance. Charge is $20.00 per day.
---
Cash Deposit Rentals
Florida Van Rentals Inc. accepts cash deposit rentals.Florida Van Rentals accepts cash deposit rentals. For customer's wishing to pay cash for their rental must have proof of full coverage car insurance for each driver, a $500.00 deposit, plus the cost of the rental up front. We will accept checks with a credit card deposit.
---
Locations and Local Area
Florida Van Rentals Inc. has the following locations:
Orlando Intl (MCO)(Orlando, FL)
Orlando, FL (Not Flying In)(Orlando, FL)
Orlando-Sanford Intl (SFB)(Orlando, FL)
Tampa Intl (TPA)(Tampa, FL)
Daytona Beach Intl (DAB)(Orlando, FL)
Miami Intl (MIA)(Miami, FL)
Ft. Lauderdale Intl (FLL)(Ft. Lauderdale, FL)
Palm Beach Intl (PBI)(Palm Beach, FL)
Boca Raton Apt (BCT)(Boca Raton, FL)
Port Everglades (Park & Fly)(dania beach, FL)
Ft Myers Intl (RSW)(orlando, FL)
Melbourne (MLB)(orlando, FL)
Ocala(ocala, FL)
Jacksonville(Jacksonville, FL)
Gainesville Airport (GNV)(Gainesville, FL)
---
Corporate Address
Florida Van Rentals Inc.
6307 Hansel Avenue
Orlando, FL 32809United States
---
We rent the following types of vehicles
Luxury
Specialty
Trucks
Vans
Florida Van Rentals features many specialized handicap and wheelchair accessible vans as well as our most popular 12 & 15 passenger vans. We also carry specialized vans including 15 passenger minibuses as well as our 12 & 15 Passenger Mercedes Sprinter Vans. All vehicles are fully air conditioned and non-smoking.