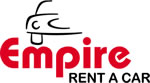 You are renting with
Empire Rent A Car
Company Profile
---
Pickup / Dropoff Services
Empire Rent A Car provides pickup / dropoff services. As long as the customer arranges for either pick up or drop off with our office, we do provide this service.
---
Airport Service
Empire Rent A Car provides airport pickup and dropoff services. We happily arrange rentals for travelers coming into both John F. Kennedy and La Guardia airports. We do provide pick up and drop off to these two airports.
---
We serve the following markets
Airline Employees
Military
Association Members (AAA / AARP)
Travellers
Local Renters
Tour Groups
Government
Conventions / Special Events
Special Group Rates
Long Term Renters
Students / Young Drivers
Insurance Replacement Rentals
Travel Agents
Corporate Clients
You need wheels? We have what you need. Vans of all sizes for Cargo or Passenger. From Nissan NV200's, Sprinter and Transits of all sizes. Box trucks from 12 foot to 24ft all equipped with Back up Camera, E Track, Walk Ramp or Oversized Lift Gate. Late model Nissan Versa, Toyota Corollas and the all new 2016/7 Toyota Camry.
---
Special Services
We have local shuttle pick up and drop offs to customers if arrangements are made ahead of time.
---
Age Requirements
Minimum Age: 18Certain car class restrictions apply. Driver must have a clean drivers license and no additional drivers may be added to your contract.
---
Cash Deposit Rentals
Empire Rent A Car accepts cash deposit rentals.We do rent with a cash deposit. A major credit card is not necessary to rent a vehicle from our company. If cash is your only means of payment, we do require picture ID and local verification, such as a home phone bill and either a job ID or a pay stub.
---
Locations and Local Area
Empire Rent A Car has the following locations:
Brooklyn -- 835 Pennsylvania Ave & Linden Blvd . Near JFK Airport(Brooklyn, NY)
Long Island City -- 38-31 42nd Place & Northern Blvd(Long Island City, NY)
Bronx -- 602 E Fordham Rd & Arthur Ave(Bronx, NY)
Bronx --1985 Bruckner Blvd & White Plains Rd(Bronx, NY)
College Point --15-02 131st off 20th ave. Near LGA Airport(College Point, NY)
New Hyde Park --1850 Imperial ave & Denton Ave(New Hyde Park, NY)
NYC -- Manhattan via delivery(Flushing, NY)
JFK -- Kennedy Airport via delivery(Flushing, NY)
LGA -- LaGuardia Airport via delivery(Flushing, NY)
ISP--MacArthur Airport via delivery(Ronkonkoma, NY)
FOK--Francis S. Gabreski Airport via delivery(Westhampton Beach, NY)
HPN--Westchester County Airport via delivery(West Harrison, NY)
SWF--Stewart International Airport via delivery(New Windsor, NY)
EWR -- Newark Airport via delivery(Newark, NJ)
Flushing --via delivery(Flushing, NY)
Forest Hills/Rego Park--via delivery(College Point, NY)
MCO-Orlando International Airport-- via Delivery(Orlando, FL)
There are many local attractions in the vicinity of our rental offices. We have Shea Stadium, where the Mets play; there is Yankee Stadium, where the Yankees play; Nassau Coliseum, where the Islanders and Dragons play; Madison Square Garden, where the Rangers and Knicks play; Jones Beach and Jones Beach Theatre; Splish Splash Water Park; The World's Fair, just to name a few.
---
Corporate Address
Empire Rent A Car
1850 Imperial Avenue
New Hyde Park, NY 11040United States
---
We rent the following types of vehicles
Cars
Vans
SUVs
Trucks
Luxury
Specialty
All late model Nissan Versa's, Toyota Corolla's, Camry's, Rav 4's, Chrysler Town and Country minivans. Mercedes Metris's 8 pass minivans, Mercedes Sprinters 10 Pass luxury or 12 pass high back bench all equipped with TV/DVD. The all new Ford Transits seating 8, 12 or 15 in all different roof heights and lengths. We have them all. SUV's are all Black Tahoe's and Suburban's.