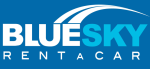 You are renting with
BLUE - SKY 2000 Rent A Car
Company Profile
History
blue-sky founded in 2000 in tel aviv and from a small company grow and expand to one of the leading company in israel, with a uniqe variaty of cars which can suit any demand . as of today we are the leading company with extensive electric cars like tesla,seres,audi ,bmw and mrecedes. we have 10 branches from up north to down south.Years in business: 23 Real Reviews From Real Renters
---
Pickup / Dropoff Services
BLUE - SKY 2000 Rent A Car provides pickup / dropoff services.
---
Airport Service
BLUE - SKY 2000 Rent A Car provides airport pickup and dropoff services. WE DELIVER CAR TO THE AIRPORT, OUR DRIVER WILL WAIT FOR YOU AND WILL DELIVER THE CAR . RETURNS AT THE AIRPORT WILL BE AS PER OUR INSTRUCTIONS WHICH WILL BE GIVEN TO CLIENT WHEN HE WILL GET THE CAR .
---
We serve the following markets
Travellers
Local Renters
Long Term Renters
Insurance Replacement Rentals
Government
Corporate Clients
---
Special Services
we have call center wich operate 24/7 and service cars whice will call on demand within 3 hours,
---
Age Requirements
Minimum Age: IN GENERAL MINIMUM AGE IS 24 FOR SPECUAL CARS LIKE TESLA , LUXURY CARS AND MINIVAN ITS 28.
---
Cash Deposit Rentals
ANY RENT IS SUBJECTED TO A CREDIT CARD DEPOSIT BASED ON THE CAR GROUP. PAYMENTS CAN BE IN CASH AS PER REGULATION (NO MORE THAN 6000 NIS)
---
Locations and Local Area
BLUE - SKY 2000 Rent A Car has the following locations:
TEL AVIV(Tel Aviv, Israel)
BLUE-SKY MAIN OFFICE GLILOT(Tel Aviv, Israel)
JERUSALEM(Jerusalem, Israel)
HAIFA(Haifa, Israel)
AFULA(Afula, Israel)
ASHKELON(Ashkelon, Israel)
BNEI BRAK(BNEI BRAK, Israel)
BEN GURION AIRPORT(Tel Aviv, Israel)
---
Corporate Address
BLUE - SKY 2000 Rent A Car
Halechi 89
Tel Aviv, other 107Israel
---
We rent the following types of vehicles
Cars
Vans
SUVs
Trucks
Luxury
Specialty
we have hugh amount of electric cars: TESLA SERES AUDI/BMW/MRCEDES