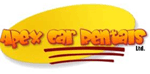 You are renting with
Apex Car Rentals Ltd
Company Profile
---
Pickup / Dropoff Services
Apex Car Rentals Ltd provides pickup / dropoff services. No additional costs within a 14 Mile radius
---
Airport Service
Apex Car Rentals Ltd provides airport pickup and dropoff services. We are 1 minute from the airport and do daily pick up and drop off
---
We serve the following markets
Travellers
Local Renters
Tour Groups
Conventions / Special Events
Special Group Rates
Long Term Renters
Travel Agents
Airline Employees
Military
Government
Corporate Clients
Association Members (AAA / AARP)
We rent to everyone as long as you are qualified in terms of age, driver's licence, credit card etc. you will be rented a vehicle.
---
Special Services
We offer roadside assistance and shuttle service in and around the Montego Bay area
---
Age Requirements
Minimum Age: 25up to 70 years old
---
Cash Deposit Rentals
Apex Car Rentals Ltd accepts cash deposit rentals.A fee of US$12.00 per day is charged for insurance , this reduces your liability to US$1500.00
---
Locations and Local Area
Apex Car Rentals Ltd has the following locations:
Montego Bay(Montego Bay, St. James, Jamaica)
Norman Manley International Airport(Kingston, Jamaica)
There is the Doctor's Cave Beach. Visitors to Montego Bay don't leave before taking a dip. The Pelican restaurant - great food. The Rosehall Great House and lots more. Apex Car Rental is an independently owned company. We know our clients by name and always try to provide what they need. Our staff interaction with our clients is superb and second to none.
---
Corporate Address
Apex Car Rentals Ltd
Shop # 14 St. James Place, Gloucester Ave, Montego Bay St. J
Montego Bay, otherJamaica
---
We rent the following types of vehicles