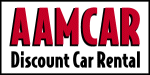 You are renting with
AAMCAR
Company Profile
History
We have been serving the Upper West Side and all of Manhattan for 40 years, specializing in affordable transportation. We feature all size sedans, cargo vans, 7 passenger vans and 15 passenger vans and SUVs.Years in business: 40 Real Reviews From Real Renters
---
Pickup / Dropoff Services
AAMCAR provides pickup / dropoff services. WE WILL DELIVER 15 PASSENGER VANS TO THE AIRPORT.THIS SERVICE ENTAILS A SMALL FEE.
---
Airport Service
No airport service. We offer delivery and pick-up services to all area airports for a nominal fee. Please call our office at 212.222.8500 for more details
---
We serve the following markets
Airline Employees
Military
Corporate Clients
Government
Association Members (AAA / AARP)
Travellers
Local Renters
Tour Groups
Conventions / Special Events
Special Group Rates
Long Term Renters
Insurance Replacement Rentals
Travel Agents
WE PROVIDE A WIDE ARRAY OF VEHICLES INCLUDING 15-PASSENGER VANS AND CARGO VANS, AS WELL AS SUVS AND ALL SIZE SEDANS.
---
Special Services
In the rare occasion that you encounter roadside problems, we will be there to replace or repair your car.
---
Age Requirements
Minimum Age: 23If you are 23 years old, please call our office for approval to rent. A surcharge will apply. If you are AT LEAST 24 years old, you can rent cars, 7 passenger vans, Cargo Vans and SUVs using the published rates, however you will not be able to rent 15 passenger vans. If you are AT LEAST 25 years of age, you can rent any vehicle INCLUDING 15 passenger vans.
---
---
Locations and Local Area
AAMCAR has the following locations:
96th Street(New York, NY)
---
Corporate Address
AAMCAR
315 West 96th St
New York, NY 10025-6108United States
---
We rent the following types of vehicles