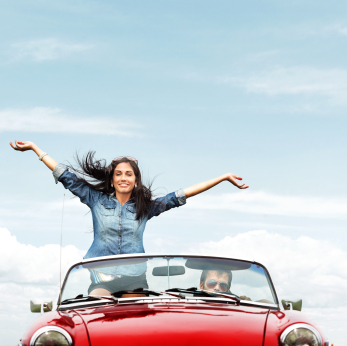 There's nothing like the thrill of cruising the open road, the beach or the boulevard in a luxury convertible in the summer. As the sun begins to set after a day of road tripping, working out of town or heading out on a girls-only trip, you'll be glad you shopped around for the cheapest car rentals, even for luxury cars.

Why not take the summer to enjoy a little care-free driving in a BMW, Mercedes-Benz or Audi convertible? Want to rent a Lamborghini? You can do that too, instantly receiving longing stares from everyone you pass on the street.

And c'mon, don't rent with the 'big' guys.  You know that you will receive much better, more personable and friendlier service with a local, independently owned agency.  The main advantage of choosing an independent car rental agency is in the level of service you receive. There is no doubt that the agency will treat you with astounding customer service so that they can count on you as a future renter.

Going away on business? A luxury car will help take the strain off your trip, and your back. When it's time to head out with the team for dinner, you'll be excited to offer to drive.  And why not instead of renting a limo for the evening with some friends, opt for a luxury vehicle instead? Running to Vegas or Atlantic City? Be a high roller and get treated like one, with car rental discounts to sweeten the deal.

Whether you're looking for an economy, SUV or hard-to-find exotic car, independent car rental agencies often share the cheapest car rentals possible while catering to your every wish and whim.