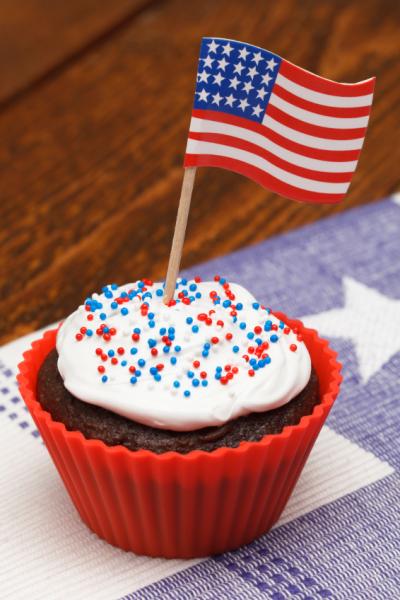 Tomorrow is the 4th of July, which means juicy watermelon, hamburgers on the grill and colorful, booming fireworks, not to mention plenty of friends and fun. Traveling a bit to a family member's house for the festivities? Score a great car rental discount to make the trip a breeze! Staying home and hosting a party yourself? You'll love these tips for a fun summer day, rain or shine.

• Don't want to make an entire flag cake? They can be tricky and if it doesn't come out right, you may be stuck for a dessert. Instead, top cupcakes with red, white and blue icing and put them in the shape of a cake instead. You can do the same thing with cake pops, too! If you screw one or two up, the entire "cake" won't have to be scrapped (just make sure to bake a few extra).

• Put red, white and blue flowers (either natural or artificially colored) into stainless steel buckets and glass mason jars for a rustic, themed display.

• What's the 4th of July without S'mores? Instead of having everybody balance the fixings on their lap by the fire, setup a S'mores bar so they can build their treat before heading over to the fire pit.

• Filling up your cheap car rental with lots of goodies for the 4th of July party? Don't forget a few watermelons! Not only is this summertime fruit delicious in salads, on the grill or just by itself, but it also doubles as a DIY project. Carve words out and use the watermelons as signage.

• Send guests home with individual pie-in-a-jar treats. You can also throw in a few car rental coupons if they rented a car or have a vacation coming up!

A Few More Tips:

Planning to get out of town for the 4th of July? Unwind, indulge in great BBQ and watch fireworks away from home. Look into the cheapest car rentals available so that you can spend the money you saved on Independence Day sales!

Make sure that your side salads, like macaroni salad and anything else made with mayo, stays inside where it's cold. Mayonnaise shouldn't be in the hot sun!

Remember, it's always better to rent from independently-owned car and vehicle agencies. At CRX, we are both reliable and low-cost thanks to our many car rental deals and coupons.