How
to Celebrate Hanukkah While Traveling
Submitted by
robyn
on Wed, 12/17/2014 - 14:15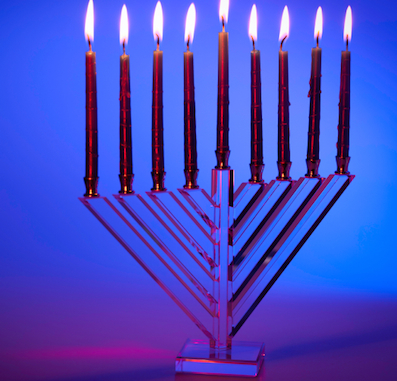 This year, Hanukkah falls during winter break (ending on December 24th), giving families the opportunity to get out of town for the holiday. Celebrating Hanukkah in a hotel instead of at home may not feel as cozy as usual, but being in an unfamiliar city can be exciting and memorable. Book a fantastic car rental deal and hit the road to observe Hanukkah in a brand new way.
1. Give the gift of experience instead of traditional presents. Since you'll already be on vacation, buy tickets to a local event or book an activity that your family will love. You can also give gifts that travel well, like art supplies to keep antsy kids busy on the plane, an underwater camera for photography aficionados, or a new set of luggage. Throw a few car rental coupons in with the presents, too, so booking the trip is easy on mom and dad's wallet.
2. Seek out local Hanukkah celebrations. Map out the area's synagogues and look into events that the Jewish community has planned. Menorah lightings and Hanukkah parties are extra fun when you're meeting new people and you're out of your comfort zone. Notable events include The Matzoball singles party in New York City and performances at the Chanukah Comedy Lounge (not to mention the open bar) in Chicago. If you can't walk to your destination, look for the cheapest car rentals in the area to help you get around town.
3. Don't forget to light the menorah - it wouldn't feel like Hanukkah otherwise! If you're hanging out in the hotel room, light the menorah in the room (just be safe!). You can also bring along a compact travel menorah if you have a full day of travel.
4. Scope out the town's best Jewish deli so you can eat some of your favorite dishes on Hanukkah. Or book a hotel room with a kitchen so you and your family can stick with tradition and cook up a storm.