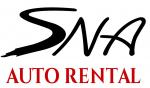 You are renting with
SNA Auto Rental
Company Profile
---
Pickup / Dropoff Services
SNA Auto Rental provides pickup / dropoff services. We offer pickup/dropoff service. (if it is more than 2 miles an extra charge may apply)
---
Airport Service
SNA Auto Rental provides airport pickup and dropoff services. We are a permited car rental agency with Orange County / John Wayne Airport (SNA).
---
We serve the following markets
Travellers
Local Renters
Tour Groups
Conventions / Special Events
Special Group Rates
Long Term Renters
Students / Young Drivers
Insurance Replacement Rentals
Travel Agents
Association Members (AAA / AARP)
Airline Employees
Military
Government
Corporate Clients
No matter your need, we can provide you with the rental car services that go beyond your expectations.
---
Special Services
SNA Auto Rental provides pickup / drop-off services. We offer complimentary pick-up and drop-off within a 5-mile radius of our locations at no extra cost.
---
Age Requirements
Minimum Age: 21We rent to drivers over 21 years of age at NO extra charge.
---
---
Locations and Local Area
SNA Auto Rental has the following locations:
Newport Beach, CA(Newport Beach, CA)
Santa Ana(Newport Beach, CA)
SNA AUTO RENTAL (IRVINE)(Newport Beach, CA)
SNA Auto Rental (Santa Ana)(Newport Beach, CA)
SNA Auto Rental (Coast Mesa)(Newport Beach, CA)
SNA Auto Rental (Anaheim)(Newport Beach, CA)
SNA Auto Rental Orange County Airport (SNA) in Newport Beach less than a mile from the terminal (John Wayne Airport)
---
Corporate Address
SNA Auto Rental
3848 Campus Dr Ste 102
Newport Beach, CA 92660United States
---
We rent the following types of vehicles
Cars
Vans
SUVs
Luxury
Specialty
Ford Mustang Convertibles