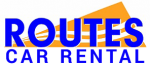 You are renting with
Routes Car Rental
Company Profile
History
Routes Car Rentals has been in operation since 1998 and throughout these two decades Routes has become Canada's fastest growing independent automotive and commercial truck rental company. Routes was founded with a personal commitment to provide incomparable and uncompromising customer service with the intention of renewing customer faith in the car rental market. Years in business: 17 Real Reviews From Real Renters
---
Airport Service
Routes Car Rental provides shuttle service to and from the airport. Routes Car and Truck Rental offers free shuttle service to and from the airport . Please call upon arrival for shuttle service. Refer to city location numbers as listed in individual city policies.
---
We serve the following markets
Tour Groups
Special Group Rates
Long Term Renters
Airline Employees
Travel Agents
Insurance Replacement Rentals
Travellers
Corporate Clients
Government
Local Renters
---
---
Age Requirements
Minimum Age: 25ONTARIO G2 License is not valid for rent (regardless of the age)
---
---
Locations and Local Area
Routes Car Rental has the following locations:
Toronto(Toronto, ON)
Calgary(Calgary, AB)
Ottawa(Gloucester, ON)
Edmonton(Nisku, AB)
401/Dixie, Mississauga, ON - City Location(Misssissauga, ON)
Surrey BC(Surrey, BC)
Chicago(Chicago, IL)
Vancouver(Richmond, BC)
3207 Danforth Ave, Scarborough, ON M1L 1B8(Scarborough, ON)
San Juan(San Juan, Puerto Rico)
Aguadilla(Aguadilla, Puerto Rico)
Orlando(Orlando, FL)
Keflavik International Airport(Reykjavik, Iceland)
Richmond(Richmond, VA)
Miami(Miami, FL)
Atlanta(Atlanta, GA)
St.Maarten(Simpson Bay, Sint Maarten)
Romania(Bucharest, Romania)
Bajio(Silao, Mexico)
Guadalajara(Guadalajara, Mexico)
Los Cabos(Las Veredas, Mexico)
Puerto Vallarta(Puerto Vallarta, Mexico)
Malta(Attard, Malta)
Casablanca(Casablanca, Morocco)
Auckland(Auckland, New Zealand)
Christchurch(Christchurch, New Zealand)
Fort Lauderdale(Fort Lauderdale, FL)
Larnaca(Larnaca, Cyprus)
Marrakech Airport(Marrakesh, Morocco)
Paphos(Paphos, Cyprus)
Scarborough ON(Scarborough, ON)
Wellington(Wellington, New Zealand)
Queenstown(Frankton, New Zealand)
Denver(Aurora, CO)
Porto(Porto, Portugal)
Lisbon(Lisbon, Portugal)
Heraklion(Heraklion, Greece)
Kefalonia(Kefalonia, Greece)
Kos(Antimachia, Greece)
Lesbos(Mitilini, Greece)
Newark(New York, NY)
Thessaloniki(Thessaloniki, Greece)
Zakynthos(, )
Zagreb City(Zagreb, Croatia)
Zagreb Airport(Zagreb, Croatia)
Skiathos(, )
Rhodos(, )
Punta Cana(Punta Cana, Dominican Republic)
Pula City(Pula, Croatia)
Pula Airport(Pula, Croatia)
Preveza(Aktio)(, )
Nea Anchialos-Volos(, )
Montego Bay(Montego Bay, Jamaica)
Athens(, )
Our off airport locations are easily accessible to major highways and are within the distance from most major hotels and attractions.
---
Corporate Address
Routes Car Rental
3035 Orlando Dr
Mississauga, ON L4V 1L6Canada
---
We rent the following types of vehicles
Luxury
Trucks
SUVs
Vans
Cars