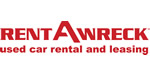 You are renting with
Rent-a-Wreck
Company Profile
History
Rent-A-Wreck is the Smart Alternative for all your car rental needs. Founded in 1968 and franchising since 1973, we are one of the best-known neighborhood car rental companies in the U.S. and global market. "Do you really rent wrecks?" After being in business for many years with one of the most unique and memorable corporate names, we still get calls from people every day asking this question. Rest assured, our vehicles are more like the cars you drive everyday. We keep our fleet of cars, trucks, SUV's and vans clean and well maintained; they are far from wrecks! We hope that our funny name helps you to remember us, and our low cost rentals and high quality customer service will earn and keep your business. Whether you need a rental vehicle for business, pleasure or something in between, Rent-a-Wreck is here for all your driving needs. Many of our locations stock economy cars and full size luxury sedans; and they also offer pickup trucks, box trucks, min-vans, cargo vans, 15-passenger vans, SUVs, and station wagons for rent as well! Try any of our locations across the United States and internationally in the Caribbean, Norway, Sweden and Denmark.Years in business: 40 Real Reviews From Real Renters
---
Pickup / Dropoff Services
Rent-a-Wreck provides pickup / dropoff services.
---
Airport Service
Rent-a-Wreck provides airport pickup and dropoff services.
---
We serve the following markets
Insurance Replacement Rentals
Students / Young Drivers
Association Members (AAA / AARP)
Travellers
Local Renters
Tour Groups
Conventions / Special Events
Travel Agents
Airline Employees
Military
Government
Corporate Clients
Special Group Rates
Long Term Renters
We specialize in helping individuals and groups save on their vehicle rentals. We work with large and small companies, government agencies, movie and film production companies, insurance agencies, universities and others.
---
Special Services
We offer road side service 24/7 and pick up and drop off service is available at most locations, inquire with the location directly for specific information.
---
Age Requirements
Minimum Age: 21
---
Cash Deposit Rentals
We accept all credit cards, bank issued debit cards and pre paid debit cards. We do not accept cash for deposits or final payments.
---
Locations and Local Area
Rent-a-Wreck has the following locations:
Cherry Hill - Route 38(Cherry Hill, New J)
Deptford - East(Deptford Township, New J)
Minot International Airport(Minot, North)
Billings Logan Int'l Airport(Billings, Monta)
Greensboro(Greensboro, North)
Lakewood - South(Lakewood, Washi)
Reno-Tahoe International Airport(Reno, Nevad)
Baltimore North(Baltimore, Maryl)
Richmond - South East(Richmond, Virgi)
East Brunswick(East Brunswick, New J)
Hamden - North(Hamden, Conne)
Philadelphia Int'l Airport(Tinicum Township, Penns)
Bakersfield(Bakersfield, Calif)
Warren - North(Warren, Michi)
Dover - North(Dover, New J)
Newton - East(Lafayette, New J)
Chester - West(Chester, New J)
Hackettstown -West(Hackettstown, New J)
Morristown Municipal Airport(Morristown, New J)
Parsippany - North(Parsippany-Troy Hills, New J)
St. Maarten Int'l Airport(Simpson Bay, Sint )
Seattle-Tacoma Int'l Airport(SeaTac, Washi)
Princeton(South Brunswick Township, New J)
Chicago Midway Int'l Airport(Burbank, Illin)
East Haven Regional Airport(East Haven, Conne)
Glen Burnie(Glen Burnie, Maryl)
Parma, OH(Parma, Ohio)
Hammond(Hammond, India)
Burlington(South Burlington, Vermo)
Biddeford(Biddeford, Maine)
Cleveland(Cleveland, Ohio)
Latrobe(Latrobe, Penns)
Fairfield(Fairfield, Calif)
Erie(Erie, Penns)
Watertown Airport(Watertown, New Y)
Watertown(Watertown, New Y)
Springfield(Springfield, Misso)
Rockville(Rockville, Maryl)
Canton(Canton, Michi)
Burbank(Burbank, Illin)
Latrobe Airport(Latrobe, Penns)
Lulea(Lulea, Norrb)
Bangor(Hampden, Maine)
Lakewood - NJ(Lakewood, New J)
San Juan Int'l Airport(Carolina, Carol)
Reykjavik(Keflavik, N/A)
Juan Santa Maria Intl Airport(Alajuela, Provi)
Chihuahua(Chihuahua, Chihu)
Turks and Caicos(Providenciales, Caico)
Bucharest(Otopeni, Judet)
Newark(Newark, New J)
Jersey City(Jersey City, New J)
Calafate(El Calafate, Santa)
Bariloche(San Carlos de Bariloche, R?o N)
Medellin Airport(Medell?n, Antio)
---
Corporate Address
Rent-a-Wreck
13900 Laurel Lakes Avenue, Suite 100
Laurel, MD 20707United States
---
We rent the following types of vehicles
Cars
Vans
SUVs
Trucks
Luxury
Specialty