Wet
Hot American Summer: The Perfect Places to Cool Off
Submitted by
Anonymous (not verified)
on Tue, 07/05/2016 - 00:50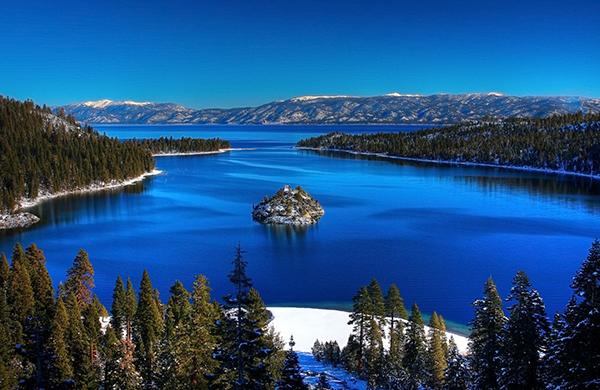 America is getting hotter by the day. No matter what part of the country you call home or where you plan to visit, July and August are typically the most scorching months. And while you won't be able to beat the heat entirely, there are some place you can go where it's much easier to embrace it. Specifically, you can head to the water.
From our ocean beaches to our lakeside resorts, this country is full of summertime retreats perfect for couples, families, friends and solo travelers. Car rental coupons and car rental deals can still be found during summer, even though it's a peak travel time. Renting a vehicle will give you the peace of mind of being able to explore your destination or a nearby city at a moment's notice. And should you go the road trip route, you can avoid putting miles on your own car.
But where should you go? Here are some of the best American waterside destinations to visit in July and August.
Newport, Oregon
The Oregon Coast is breathtaking in any season. But its reputation is pretty clear: it rains a lot. But July and August are its driest months, and the Central coast location of Newport is a perfect place to land. Stay at the beachfront Hallmark Hotel for a luxurious experience at a reasonable (for summer) rate. Taste craft beer and have the best clam chowder of your life at Rogue Ales Bayfront Public House. And don't miss the chance to see the nearby Oregon Coast Aquarium.
Newport, Rhode Island
Craving something on the other coast? Newport, Rhode Island is also a great option. Aim for mid to late August if you can since July can be especially humid—but if you're not opposed to humidity or high temperatures, it won't be a big deal. Enjoy the scenic views and get some exercise at the 3.5 mile Cliff Walk, one of the city's top attractions. Rest your head at the perfectly located Harbor Hotel and Marina, and treat yourself to some ice cream from The Daily Scoop.
Polson, Montana
Montana's Flathead Lake is one of the most beautiful bodies of water in the country. The weather in the Treasure State is always unpredictable, but mid to late summers tend to be mellow with a nice, dry heat that isn't unbearable. Polson is small, but it's an affordable place to stay and it's close to everything Flathead has to offer. Stay at the Red Lion Ridgewater and enjoy a hearty Mexican meal and a patio margarita at Fiesta en Jalisco, which sits right on the lake.
Lake Tahoe, Nevada
Lake Tahoe is popular year round, but it's absolutely worth braving the summer crowds to go. Stay at the Tahoe Lakeshore Lodge & Spa, a no-frills hotel with beautiful lake views. Enjoy a meal at the Chart House, sip a cocktail at Brooks' Bar & Deck at Edgewood Tahoe after a round of golf on the golf course, and spend plenty of time enjoying the lake. 
Ocean City, Maryland
This charming little beach town really comes alive for the summer, and it's a beautiful place to be. You can easily take the family to Ocean City, but it's also a great spot for a couples' getaway. Stay at the oceanfront Beach Plaza Hotel, and enjoy some classic Maryland crab at the nearby Phillip's Crab House. Don't miss out on experiencing Seacrets Jamaica, an island bar whose owners spared no expense to make it magical. Sip cocktails from tables in the water by day, then dance the night away by one of the stages. Seacrets recently opened a distillery, which is the first to open in Worcester County since the end of Prohibition. 
Rehoboth, Delaware
Craving a classic all-American experience? Rehoboth might be for you. If strolling the boardwalk with saltwater taffy in hand and relaxing at Dewey Beach sound fun, you'll love this quiet little beach town. Stay at the Surf Club Oceanfront Hotel, enjoy a meal at Eden, a high end restaurant that's worth the splurge, and dance the night away at the Rusty Rudder. 
Pacific Grove, California
This little gem is nestled in between Carmel and Monterey. It's a quiet town that doesn't see as many tourists as its neighbors, but it's a wonderful place to escape the fast pace of California life and relax. You're more likely to see a stray deer than a celebrity here. Stay at the beautiful Seven Gables Inn, which overlooks the water and offers daily wine and cheese, and swim at Pacific Grove, a true swimming beach. Get a hybrid car rental for this trip so you can cruise down the coast.
Lake Powell, Arizona
Yes, Arizona summers are hot. But if you've never seen an Arizona summer sunset, you're missing out on a natural work of art. The quiet community of Lake Powell is the perfect place to go to get away from it all, and it's close to some wonderful hiking spots in Utah (Lake Powell straddles the border). Stay at the Best Western for the best lake views and enjoy a meal at Bonkers Restaurant, an informal Italian place with some seriously great food. 
Enjoy your summer adventures!