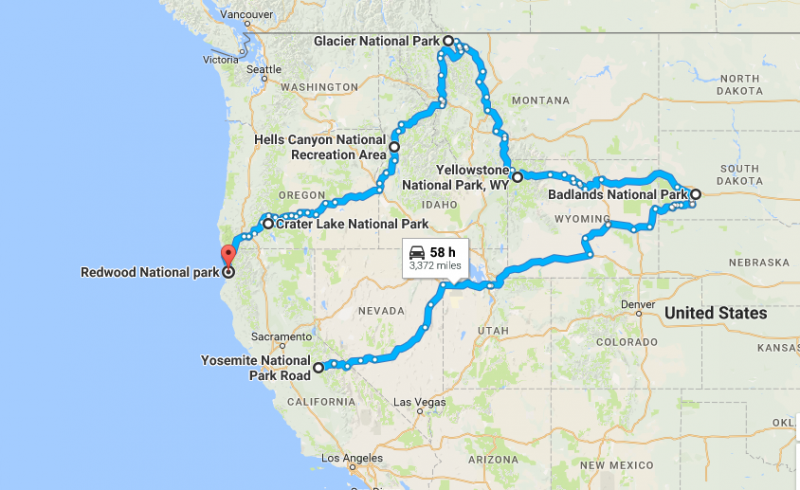 Summer is flying by, and we'll all be wearing sweaters and boots before we know it (except for those lucky few who live in perpetually sunny states). The end of summer is the perfect time to take a road trip that explores many of our country's finest national parks. Warmer weather means you won't have to worry about seasonal closures or snow.
Our country is full of many beautiful scenic landscapes, and our national parks are the ultimate outdoor recreations areas. Many of them offer campsites, and all of them have unique scenery that's always worth checking out. End your summer or start your fall with an amazing national park road trip. You'll make memories that will last a lifetime.
First things first: Make sure you're stocked up on your gear. If you plan to camp (and it's highly recommended that you do for part of your trip since hotels can be scarce in sparsely populated areas), you'll want to pack outdoor equipment for a variety of weather conditions. You're liable to see plenty of sunshine, but nocturnal temperatures and the occasional early fall cold spell are common, so pack cozy sleeping bags and warm clothing. You'll also want to purchase an America the Beautiful pass, which is $80 and allows access and use of national parks and recreation areas for you and all passengers in your car. 
And speaking of cars, renting a vehicle for your road trip will give you the ultimate peace of mind. You won't have to put wear and tear on your own car, and if you're taking a big group along, you can rent a bigger vehicle than you own. Military members are subject to military car rental deals AND qualify for a free America the Beautiful Pass, so that's worth looking into if you've served our country. Check online for car rental deals to find the right ride for you.
The route you take will be dependent on the kind of scenery you'd like to enjoy. This road trip will take you through some of the Northwest's best parks and expose you to a wide variety of stunning landscapes. This route involves 58 hours of driving time, so we recommend allowing 14 days so you can truly enjoy the journey. You'll start and end in California, so plan accordingly.
Stop 1: Yosemite National Park, California
Framed by the Sierra Nevada Mountains, Yosemite National Park is the perfect place to start. Climb the amazing Mist Trail, explore the Tuolumne Grove and spend the night at the Majestic Yosemite Hotel if you don't feel like camping. Rafting, swimming, fishing and golfing are just a few of the many activities available here.
Stop 2: Badlands National Park, South Dakota
You'll spend a couple of days driving through Nevada and Northern Utah before arriving at Badlands National Park. This park makes the list because the scenery is so unique and otherworldly. You'll find 244,000 acres of sharply eroded buttes, pinnacles and spires. You can look for miles and see no signs of civilization, so this is where you to go really get away from it all. We recommend camping here for the ultimate relaxation.
Stop 3: Yellowstone National Park, Wyoming and Montana
Our country's first national park is the next stop on the road trip. Famous for its gushing geysers and dramatic canyons, Yellowstone spans parts of Wyoming and Montana. Treat yourself to a respite from the outdoors and spend the night at the Mammoth Hot Springs Hotel. Yellowstone is definitely a two day stop, so you'll want to make sure you're rested.
Stop 4: Glacier National Park, Montana
This road trip would be complete without a drive to Glacier. Be prepared for breathtaking scenery like nothing you've ever experienced. From its crystal clear lakes (Lake McDonald and Swiftcurrent Lake are its most famous) to its hiking trails, waterfalls and the Grinnell Glacier, there's a lot to see. Take the scenic Going-to-the-Sun Road to see a "park highlight" of some of the area's best scenery. You'll have several great lodging options as well as numerous campsites, so rest your head wherever you're most comfortable.
Stop 5: Hells Canyon National Recreation Area, Idaho
Drive through beautiful Western Montana and northern Idaho until you reach the scenic Hells Canyon National Recreation Area, which borders both Washington and Eastern Oregon. The mighty Snake River winds its way through Hells Canyon, and there are several companies offering guided boat tours.
Stop 6: Crater Lake National Park, Oregon
Crater Lake is an incredibly unique part of our world. It has a depth of 1,943 feet, making it the deepest lake in the country. The water's intense blue color is an indication of its great depth and purity (it's quite clean). Don't miss the Sinnott Memorial Overlook, which features an indoor exhibit room and an open area with gorgeous lake views. Camp at one of the many scenic campsites or spend the night in the Crater Lake Lodge, which overlooks the lake at Rim Village.
Stop 7: Redwood National Park, California
Last but not least, cruise back into California and stop at Redwood National Park. Situated on a long stretch of Northern California coast, you'll be able to gaze at the beautiful redwoods and enjoy the abundant wildlife sightings. Marine mammals like sea lions and gray whales are common, and you may even see some Roosevelt elk, pelicans, ospreys and rabbits while you're there.
Drive safely, obey park rules and don't leave your litter behind. That way people can enjoy these beautiful places for years to come.