Sunshine
and Summertime: Time for the Great Outdoors!
Submitted by
robyn
on Thu, 07/08/2010 - 09:37
I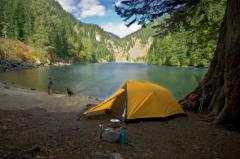 am, without a doubt, giddy from the recent outburst of sunshine and heat we've been experiencing over here on the West Coast of British Columbia, Canada.... and a little lightheaded thinking about all the wonderful adventures waiting for me and my family just outside the door. 'Tis the season to pack up the crew, rent a car, throw a tent in the trunk and open the map to choose an exciting getaway.
Anyone who lives in British Columbia or has visited this fine province knows the indescribable beauty it has to offer. The 2010 Winter Games publicized to the world that BC is truly one of the "Best Places on Earth". Whether you want to spend your summer vacations camping in forested areas, swimming in freshwater lakes, windsufring on the Pacific, hiking up intense mountain ranges or taking a week-long kayak trip, British Columbia has it all.
I was born and raised in this glorious province yet it took the urging of my adventurous South American husband to get me to toss aside my 'city ways' and brave the outdoors. All winter long he has been planning the various excursions he wants to take this summer. Below is a list of just some of the places he and I either have recently, or will in the near future, visit:
The Stawamus Chief - My parents were kind enough to take our kids so that we could spend a day on this hike. We drove our rental up to Squamish and hiked up this incredible mountain. It was fully worth the arduous climb (however, just so I can boost my ego a little, I kicked my husband's tushy and beat him to the top!) because at the top you are rewarded with one of the most beautiful views on the face of the earth.
The Sunshine Coast - I have already written about this trip in a previous blog . If you are into kayaking, lake swimming, and taking long hikes/walks, the Sunshine Coast must be visited.
Golden Ears Provincial Park - My husband took our twins on their first camping trip here last summer and they will be going again (it's their 'special' time with their dad). This is a beautiful park situated in the Coast Mountains next to Pitt Lake. There are tons of little nature walks perfect for kids.
Sasquatch Provincial Park - We have made reservations to go here. This park is located on the edge of Harrison Lake and offers all sorts of recreational activities: cycling, fishing, hiking and boating.
These are just a few of the literally thousands of places to explore. All you need is a rental car or SUV and you are well on your way to having an awesome summer.