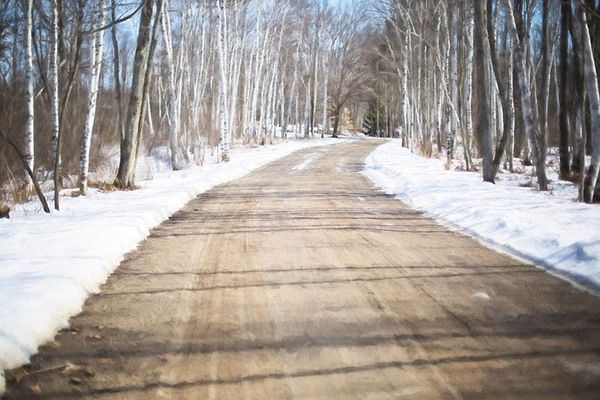 While it may not seem like winter and driving are a good combination, the fact is, some of the most scenic and beautiful drives are best taken during the snowy season. As long as the weather outside isn't too frightful, you're used to winter driving conditions and your hybrid car rental contains all the necessary emergency supplies, you shouldn't be afraid to embark on one of America's best winter road trips.
If you're planning on renting a car for the occasion, look up car rental deals and see if you can score an off-season special rate for a long-term car rental.
Before spring arrives, give one of these 10 winter routes a try:
1.     Manhattan, New York to Pittsburgh, Pennsylvania
Shop your way around Fifth Avenue and SoHo, take in the city sights, and then take a six hour drive to Pittsburgh for a change of scenery. Pittsburgh is particularly magical when it's coated in snow.
2. Santa Fe, New Mexico to Boulder, Colorado
Want to see sunshine and snow on the same day? Just make this 419 mile drive. It will be difficult to pry yourself from the delicious Tex Mex food, vibrant art scene and unforgettable sunsets of Santa Fe. But the promise of hitting some of the nation's finest ski slopes should help you. Even if you're not into snow sports, Boulder is downright beautiful in the winter.
3. Las Vegas, Nevada to Zion National Park, Utah
After living it up in Las Vegas for awhile, you'll be more than ready to mellow out amidst the mountains. Located 244 miles northeast of Sin City, the dry desert and high cliffs of Zion are worth exploring. Don't leave without hiking up Walter's Wiggles, a series of 21 steep switchbacks leading to the Angel's Landing Trail.
4. Wall, South Dakota to Badlands Loop Road, South Dakota
Get your fill of unique oddities at Wall Drug before hopping in your car and heading to Badlands Loop Road. The temperatures may hover around zero, but the amazing land is still worth seeing. In fact, winter might be the best time to check out the Badlands because the area won't be as packed with people. There are 14 scenic overlooks, so take your pick.
5. Chicago, Illinois to Hocking Hills, Ohio
When you're ready to venture out from the Windy City, head 400 miles southeast to Hocking Hills, Ohio. The Hocking Hills rock formations and caves look even more magical in the wintertime, especially with snow resting on the trees and rocks. That must be why locals and tourists venture out for the Hocking Hills State Park's annual Winter Hike every January.
6. Gatlinburg, Tennessee to Great Smoky National Park, Tennessee and North Carolina
This short jaunt is just 81 miles long, but there's a long to see along the way. As you drive toward Asheville, North Carolina, Great Smoky National Park provides stunning scenery and frost-kissed forests. Stop for awhile to stretch your legs and enjoy the views of Mount Cammerer. If you ski, head over to the Ober Gatlinburg Resort, one of the few places to ski in Tennessee.
7. Missoula, Montana to Yellowstone National Park, Montana and Wyoming
This drive can be dangerous during winter's worst, so schedule your road trip accordingly. But Yellowstone during winter is a sight to behold, and a lack of tourists means you'll be able to enjoy a less crowded visit. You may see wolves and the occasional bachelor bison, and you'll love seeing the geysers this time of year. They look more impressive now than in any other season.
8. Front Royal, Virginia to Shenandoah National Park, Virginia
The Blue Ridge Mountains absolutely sparkle in the snow...and if you make the drive during a frosty morning, you're in for a real treat. Shenandoah National Park has 500 miles of trails to choose from in case you're up for a hike.
9. Wilmington, Vermont to Stowe, Vermont
Vermont has to be one of the most charming states in America. This particular drive might be famous for its fall foliage, but it's still a sight to be seen during the winter. Stowe is a small town about 150 miles away from Wilmington, There are plenty of spots to stop and ski along the way if you so desire. This drive is an Instagrammer's dream.
10. Los Angeles, California to Death Valley National Park, California
A desert in winter? Yes, absolutely! The temperatures vary, with highs in the 70s during the day and night time temps dropping to the 30s. Winter is the perfect time to do the hiking and biking that would make you miserable all summer.