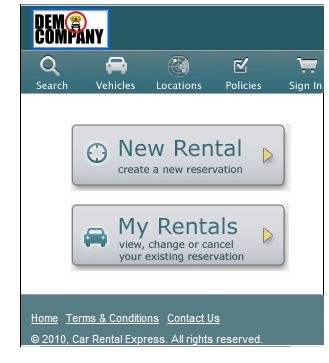 Most people carry a Smartphone these days, and can browse the internet for travel deals. But making a car rental with a phone has been nearly impossible, … until now! We are proud to introduce the Revolution Mobile Website, which works with any one of 90 existing Revolution™ websites, offering the perfect mobile source for car rentals.
The Revolution Rental Center has been crunched down to fit on the small screen.
Almost any smart mobile device, like an iPhone or Blackberry, can walk through the steps of the rental process, from rate search and vehicle options, right through to a confirmed reservation. Viewing and changing reservations is easy too.
How Does It Work?
Browsers are smart enough to recognize when the Mobile Website view needs to kick-in. Website visitors on laptops see the whole site, while mobile phone visitors are transfered instantly and without effort, to a Mobile Rental Center. The mobile view is designed specially for phones: compact and little or no horizontal scrolling.It is that easy to complete a reservation or to view, modify or cancel a reservation from your mobile phone.
Four Reasons to Love the Revolution Mobile Website
There is no software "App" (Application), so there is nothing to download.
It works with existing mobile-device software; there are no special browsers or software to install.
You can make vehicle reservations anywhere in the world, where there is cellular signal (like an airport). Change reservations on-the-fly!
Show your friends how handy Mobile reservations can be! Isn't it great to have cutting edge technology?
Finding Car Rental Websites that can GO MOBILE!
The Revolution Mobile Website capability is being launched the week of Tuesday Aug. 3, and is one of the FIRST Mobile Reservation capabilities in the world. In a month or two, when many of the 100 or so Revolution powered websites GO MOBILE, we'll put out another announcement, telling you where to find reservation site that can be accessed by Mobile phones in big cities like New York, Los Angeles and Miami. Stay tuned for that future announcement or check our website at ExpressItech.com, for a list of Mobile capable car rental websites, in late August.
A Google search will lead you to Independent Car Rental agencies in almost every city in the US, Europe and the rest of the world. Many of these more prominent Independents use Revolution and will soon be enabling Mobile reservations for vehicles of all kinds. The goal of Express Internet Technologies (www.ExpressITech.com), parent company of the Revolution reservation system and CarRentalExpress.com (CRX), is to make Mobile car rental reservations easy and pervasive, online. Our CRX site will have Mobile capability in the near term too. Stay tuned ...