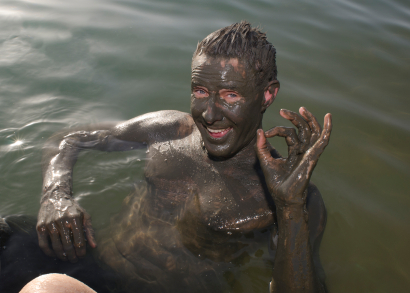 It's been a few weeks since I got back from the holy land - and wow, what a trip!  So much to see, do and absorb.  Every inch of the State of Israel permeates an aura of history and its inhabitants', past and present, passion for the land. 

We met up with my extended family from South America and spent 10 fun-filled days traveling in a large van rental.  We started up north and stayed 3 nights at a hotel in Haifa.  During the day we did not waste a minute and managed to visit a myriad of exciting spots.  Perhaps the most amazing of these was walking the narrow, cobblestone streets of Safed.   First off, let me say how incredibly insane it felt to have left Vancouver's relatively mild winter weather to be hit with the aftermath of a massive snow storm in Israel.  The last time I checked, Israel was in the Middle East, no?  Snow?  Hail?  Ice on the streets?  If I had a shekel for every time I heard, "It seems that you brought the Canadian weather with you!", I'd be a wealthy woman.

Safed sits at an elevation of roughly 900 meters and is the highest city in northern Israel and is home to some of the coldest temperatures hitting this tiny country.  Because of the previous days' dump of snow, the streets were very hard to navigate and I am utterly shocked that none of us (16 people in total!) ended up slipping and bruising our tushies!  Virtually all of the shops were closed because most storefront awnings had collapsed due to the weight of the snow.  It was a true wonderland but I would not have wanted to be driving a cheap car rental through those hazardous streets!

The other highlight of this portion of the tour was visiting the Bahai Gardens in Haifa where garden terraces circle the Shrine of the Bab.  They are situated on a slope on Mount Carmel and when standing at the very top your breath is taken away by the beautifully manicured green grass, palm trees and inclined staircase.

The next 3 days were spent in and around the Tel Aviv area.  We 'camped' out in a beautiful hotel directly across from the white sanded Mediterranean beach front.  Not to make you jealous, but WOW is all I can say!  Imagine looking out the window, from the 20th floor to a vista of blue, blue and more blue - checkered here and there with sail boats.

Each morning we boarded our van rental and hit various central-Israeli hot spots.  We toured the Ben Gurion and Palmach museums, shopped in the massive shuk (market) and ate at some incredibly delicious restaurants.  The food in Israel, is, for lack of a better word, Yum!

For our last 3 days we stayed in Jerusalem.  One could spend years in this city, touring day in and out without seeing all that this mesmerizing city has to offer.  The old city in itself has a life of it's own, buzzing with spiritual energy like no other place on the planet (at least when compared to any other place I have visited).  The three major religious influences permeating the streets are Judaism, Islam and Christianity.  You can visit the Kotel (Western Wall), go up to the Al Aqsa Mosk and tour the Church of the Holy Sepulchre all in the period of 2 hours (that is of course, if you rush through each place).

Perhaps one of the most exciting days (at least for the children) was when we went to the Dead Sea.  I am sure that you, my dear readers, have all seen photos of this place that is also known as the "Sea of Salt".  It is situated nearly 430 metres below sea level, making it the lowest place on earth.  We were lucky that we were there in the winter because during the summer months, temperatures can reach up to 40+ degrees celsius.  Since the water is so dense with salt, this sea is home to no animal/sea life and human bathers enjoy the novel phenomenon of floating effortlessly.  It is virtually impossible to sink.  And you can't leave this hot spot without covering yourself in Dead Sea mud.  It's like giving yourself a spa mask treatment over your entire body but for free.

I could write on and on about our incredible time in Israel but you'd be reading until tomorrow night.  I truly hope that each and every one of you are able to visit this part of the world at some point.  Whether you are a history buff, seasoned traveler, foodie or looking for a place to visit with your famiy, Israel has something to offer everyone.