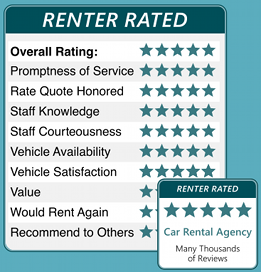 The Renter Rated Program is something that I've written about before.  To summarize:
Car Rental Express founded the Renter Rated System to help renters make informed decisions when choosing with which agency to rent.  Car Rental Express encourages renters to give their feedback on their rental experience so that future renters are well informed.
 
At the end of their rental, renters are emailed a link where they can complete the rental survey.  They are asked to rate such topics as staff knowledge, courteousness and promptness.  The highest rating an agency can get is 5 stars.  Rate and win contest participants' experiences are tallied up to build and maintain agency ratings at Car Rental Express.  Future site visitors are presented with each agency's star rating as well as detailed renter reviews so that they can find the most suitable match for their rental needs.
 
At the end of each month, the names of each renter who completed the survey are entered into a pool from which one lucky person's name is randomly chosen.  The winner is contacted right away and sent an iPad Mini, directly from the Apple online store.
It's not only the renters who are awarded however.  The agency with the highest rating needs some recognition too!
We are thrilled to announce that Midway Car Rental in LA was the first winner of our Renter Rated Award ~ and it even made the news in Auto Rental News!  The award was presented to Midway in November at the 2013 Auto Rental Summit in Florida. Who will win in 2014?  Stay tuned...