Even
an Uplanned Ferry Wait can be Fun!
Submitted by
robyn
on Tue, 07/06/2010 - 16:23
This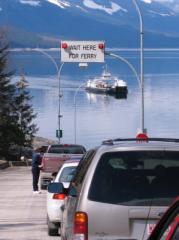 weekend, my husband and I took our 3 young daughters to the Sunshine Coast of British Columbia for a weekend holiday with some friends and their daughter. We were invited to stay at a beautiful log cabin up in the mountains. Words cannot express the beauty of landscape - we were surrounded by tall pine trees, green grass, and had a full panoramic view of 3 or 4 different lakes. If there is one word to sum all of this up, it is WOW!
We had a full schedule planned. We drove our rental car to the ferry terminal about 1 hour from our home. Since we had reservations for the boat, we only had about a half hour wait. The trip was brilliant and the kids had a blast running from one end of the roof deck to the other. All I can say, is thank God for the tall metalic railings protecting my wee ones from taking a dive overboard!
When we arrived at the other end we took a nice long drive to the cabin, fired up the barbeque upon arrival and had a scrumptious salmon dinner. We had been worried about the weather as the forecast was not overly promising. The good weather spirits were on our side however, as the next day we were blessed with sun, sun and more sun.We spent the day at a little beach on a divine fresh water lake. Yours truly braved the chilly waters and dove right in with kids in tow.
We had made reservations for a 7:00 pm ferry the next day as our plans were to spend the day again at the lake and get the most 'bang for our buck'. But, low and behold, when we woke up Sunday morning it was pouring rain. We had two options, stay inside my friends' sisters' beautiful, non-child proof home and risk destruction or brave a long wait for an earlier ferry. It was a no brainer - I did not want to be responsible for having to replace one-of-a-kind native art sculptures, thank you very much!
We drove to the ferry terminal and got there at 12:00. We were told that we would not make the 1:00 sailing and that they could not guarantee that we would make the 3:30 one either. But, there were about a zillion cars behind us so we had no choice - we could not turn around. We paid the fee and pulled on forward... and parked. But, guess, what? The sun came out (touche, I know). We unloaded the troops, found a picnic table and had a makeshift lunch. We were surrounded by loads of other people also trying to kill time. I was a bit concerned that it was going to be terrible (I am NOT a big fan of waiting).
But, to my complete and utter astonishment, we had the best time. We met some of the most interesting and friendly people. We sat together, schmoozed and exchanged stories covering topics such as child rearing, how to get your 5 month old to sleep, where to buy the best strollers and how to train a bulldog to be a show dog (yup, I'm not kidding!). The kids had a blast tormenting dogs, playing catch and simply reveling in the moment of not having to be anywhere (and of literally being stuck).
So, my travel tip is this: rent a car and don't be afraid to wait in a long line. Take a load off, don't be in a rush and simply revel in the moment. You may just have one of the best days of your life!