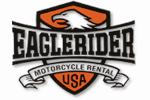 For those of you who like to live on the wild side, brace yourself because you can now rent with Eagle Rider at Car Rental Express.  The only thing holding me back is that I don't have a motorcycle license, but boy if I did...  The person probably happiest about having Eagle Rider represented at CRX is the Chair of the company since he is a  MAJOR motorcyle enthusiast.  So much so that his company profile picture shows him sitting tall and proud on his 'baby'.
But I digress...
Eagle Rider is famous world-wide for its vast fleet of motorcycles and related vehicles (ATVs, Dirt Bikes, and Scooters).  Their claim to fame is that they rent Harley Davidson bikes however they also carry BMW's and Hondas.  And how cool is it that you can book a tour with all your best buds?  I can't imagine anything more liberating than planning a week long trip through the California Coast with some of my closest friends.  Oh... the freedom!  We could visit all of the best wineries (and no, we would not ride our bikes for this type of activity - there is no way I am visiting wineries without sampling each and every wine!); tour along the beach; stop at seaside restaurants and hit some tourist destinations.  But more than anything we'd be on the road, cruising the days away and living the life.
Anyway, enough dreaming from me... as I said, I don't even have a proper license so I can't get too carried away.  But it is good to know that renting a cheap motorcycle at Car Rental Express is an option for when I am ready.