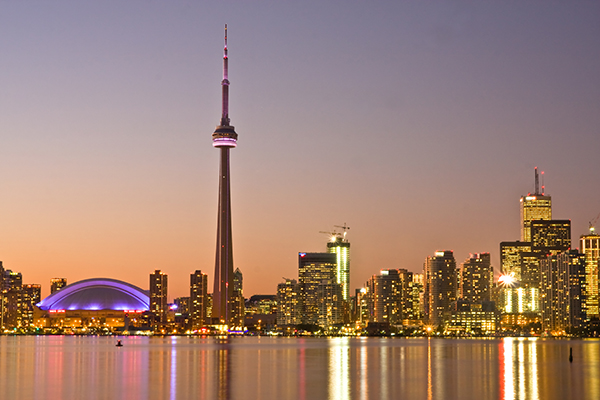 There's so much to love about Toronto. 
Filled to the brim with soaring skyscrapers, lush green spaces, delicious dining options and amazing tourist attractions, it's one of the most popular places in Canada for a reason. If your experience with Toronto is limited to crossing the border during a Niagara Falls visit, do yourself the favor of booking a trip and seeing more of it.
Car Rental Express has car rental specials Toronto available at the Lester B. Pearson International Airport, so take advantage and find the right rental car for you. You'll definitely want to rent a vehicle if you head to Toronto, if nothing else to make sure you have time to see all it has to offer. Toronto is a sophisticated city, so treating yourself to a luxury car rental Toronto might be in order.
Once you've made your car rental reservations and booked your flight, it's time to explore all the city has to offer. Use this guide to get you started.
Restaurants to Try
●      Richmond Station at 1 Richmond Street West, for an eclectic and seasonal menu that is the creation of a "Top Chef Canada" winner.
●      Canoe at the Toronto-Dominion Centre at 66 Wellington Street West, for a fine dining experience with views that can't be beat.
●      Bannock at 401 Bay Street, for a more casual dining experience with both international and Canadian-inspired dishes.
●      Lady Marmalade at 898 Queen Street East, for some of the best brunch you'll ever eat.
●      Easy Restaurant at 1645 Queen Street West, where you can get breakfast all day.
●      The Ace at 231A Roncesvalles Avenue, for a casual diner experience that's super family-friendly.
Hotels
You'll certainly have your choice of top hotels when you travel to Toronto. Here are a few of our favorites:
●      The Gladstone Hotel at 1214 Queen Street West, for a chic experience and a room in a 19th century building.
●      The Ritz-Carlton Toronto at 181 Wallington Street West, for an unbeatable luxurious stay. If you're on a romantic getaway, it's worth the splurge.
●      The Hazelton Hotel at 118 Yorkville Avenue, a refined luxury hotel located just two blocks from the Bay Station subway platform.
●      Hotel Le Germain Toronto at 30 Mercer Street, an elegant but comfortable property that's very family-friendly. They offer children's books, babysitting services and complimentary breakfast.
●      Old Mill Toronto at 21 Old Mill Road, a beautiful rustic spot that offers a relaxing experience.
Top Things To Do
There's certainly no shortage of fun things to do in Toronto. Whether it's your first visit or your tenth, make sure you check out a few classic attractions and some lesser known spots. 
●      The Royal Ontario Museum is one of the largest art museums in North America, boasting state-of-the-art galleries in a beautiful setting.
●      Casa Loma is a Gothic Revival style house and gardens in midtown Toronto that was built for financier Sir Henry Mill Pellatt in 1903. It's not a museum and a landmark, and it's beautiful.
●      Canada's Wonderland is a must-see for families, or even for your inner child. It's a huge amusement park that draws visitors from all over North America, and it's a blast.
●      The Bata Shoe Museum draws the fashion-focused crowd. It's an unusual but interesting attraction that focuses on the history of footwear.
●      Yorkville is paradise for the cultured (or the vacationing tourist), featuring an array of shops, art galleries, yoga studios and wine bars.
●      The Ontario Science Centre is another must-see family-friendly experience. It's a kid-friendly museum full of hands on experiments.
●      High Park is a beautiful waterfront urban green space. Take a picnic, walk along the trails or check out the onsite zoo.
●      The Princess of Wales Theatre is an elegant place to catch a show. See what's playing during your visit, because it's something you'll want to experience.
●      The Toronto Harbour is a scenic destination where you can take a cruise and enjoy the skyline from a different perspective.
●      The CN Tower, speaking of views, is an iconic spot with a revolving restaurant.
Day Escapes
Toronto is amazing, and you don't have to leave the city to have a good time. But since you'll have a rental car, you should take advantage and explore the surrounding areas. Here are some nearby spots to check out:
●      Point Pelee National Park is a three and a half hour drive from Toronto. It's located at the southernmost tip of mainland Canada, and it's a scenic spot where you can hike, enjoy a picnic by the beach, or take a canoe out on the water. It's also one of the top spots in North America for bird watching.
●      Niagara Falls: Whether or not you've been to the New York side, this Toronto side is worth exploring. The Canadian side tends to be slightly less crowded, though you'll still want to get there early (and on a weekday) for your best experience.
●      The Blue Mountains lies about two hours north of Toronto, and while the name suggests otherwise, it's an actual town in Grey County that consists of several small communities. It's a scenic, peaceful area that's best enjoyed in the summer or the fall.
Enjoy a Canadian adventure this year and give Toronto a try.