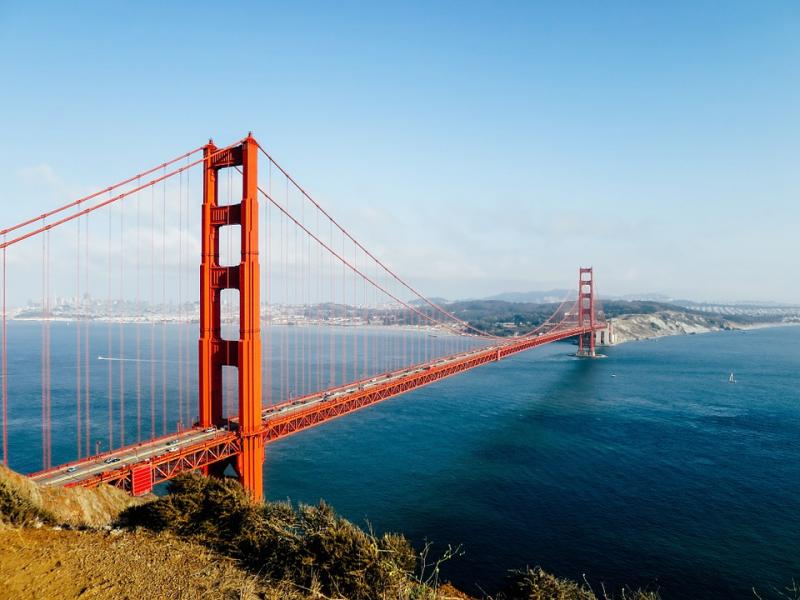 Car Rental Express provides car rental information to a large number of popular cities in the USA and the rest of North America. One of our favorite places is the friendly, foggy city of San Francisco. If you've been dreaming of a Northern California getaway, read on for the best tips on where to stay, where to eat and what to do while you're there. 
San Francisco is a city on the tip of a peninsula surrounded by the Pacific Ocean and the beautiful San Francisco Bay. Even if you've never been, you'll likely recognize the Golden Gate Bridge and its colorful Victorian houses that have been featured in so many TV shows and movies. San Francisco occupies a mere 46.9 square miles, but there's a lot to do and see within (and around) those miles. We recommend reserving a hybrid car rental for exploring this eco-friendly city.
Don't bother leaving your children home from this vacation (unless you want to) —San Francisco has plenty of fun things to do for all ages. That being said, there's also a lot of more adult-friendly venues and places that would be perfect for a girlfriend's getaway or a bachelor party. Basically, unless you want to really get away from it all, San Francisco is never a bad choice.
Here are some city highlights:
Restaurants to Try
Boulevard, at 1 Mission Avenue - For fine dining and ambiance
Brasserie Saint James, at 742 Valencia Street - For a brewery vibe (and delicious beer)
Petit Crenn, at 609 Hayes Street - For an affordable date night. For $79, you can have a five course, family style dinner of seafood and veggies.
Trestle, at 531 Jackson Street - For outstanding Italian food and wine.
Del Popolo, at 855 Bush Street - For wood-fired pizza and small plates.
Sweet Maple, at 2102 Sutter Street - For the best brunch ever.
Goood Frikin Chicken, at 10 29th Street - To take the kids for a hearty meal.
Sunset Reservoir Brewing Company, at 1735 Noriega Street - For those times when you have the kids with you but you'd still like a beer.
Hotels
San Francisco is home to some of the finest hotels on the West Coast. Here are a few visitor favorites:
Hotel G, at 386 Geary Street - For the location
Omni San Francisco, at 500 California Street - For a luxurious experience
The Orchard Hotel, at 665 Bush Street - For the convenient business center, location and onsite restaurant.
The Marker San Francisco, at 501 Geary Street - For a fabulous girlfriends' getaway.
The St. Regis San Francisco, at 125 Third Street - For a romantic vacation. 
The Argonaut Hotel, at 495 Jefferson Street - This Fisherman's Wharf hotel is a great pick for families. Kids can pick out a toy from the treasure chest at check-in!
Top Attractions
You could visit San Francisco 100 times (or more!) and never see everything it has to offer. But you can also get a lot out of even a weekend stay, as long as you plan ahead and study a map to know your neighborhoods. Here are some of the city's top attractions:
Golden Gate Park
Golden Gate Park stretches for three miles on the western edge of the city, and it's one of the largest urban parks in the world. You can see two major museums, tour beautiful gardens and take some great photos.
Alcatraz Island 
Alcatraz was the site of the first lighthouse in the Western United States, but it's best known for the federal penitentiary that was on the island from 1934-1963. Famous convicts like Al Capone once called it "home," and it's still available for tours. 
San Francisco Zoo and Gardens
Whether you're taking young children to San Francisco or you just love animals and gardens, the San Francisco Zoo and Gardens is a must-see when you're in the city. You can take a peek at 1,000 endangered and rescued animals representing 250 species on view in 100 acres of beautiful land.
Dolores Park
The most popular park in the Mission District has some of the best spots for people watching in the city. Spread out a blanket, enjoy a picnic (if it's not drizzling) and take in the views.
Pier 39
If you enjoy eating clam chowder out of bread bowls, amazing views and seeing sea lions, you'll love Pier 39. Start your trip here, along the historic San Francisco Waterfront, and you'll be treated to an unforgettable experience.
Day Trips
If you'll be in the city for awhile, hop in your luxury car rental and explore one of these nearby destinations:
Monterey County
Beaches, beaches and more beaches. This 99 miles of coastline is full of some of the most incredible scenery on the coast. Stop frequently and take a good camera!
Napa
Make sure you have a designated driver, because Napa is notorious for its amazing wineries offering free or cheap tastes along with their excellent food scene.
Sausalito
Often called San Francisco's "Riviera," you'll enjoy the beautiful seashore and trendy restaurants in this area.
Ready to book a trip? Search our site for San Francisco car rental deals. Enjoy your trip!