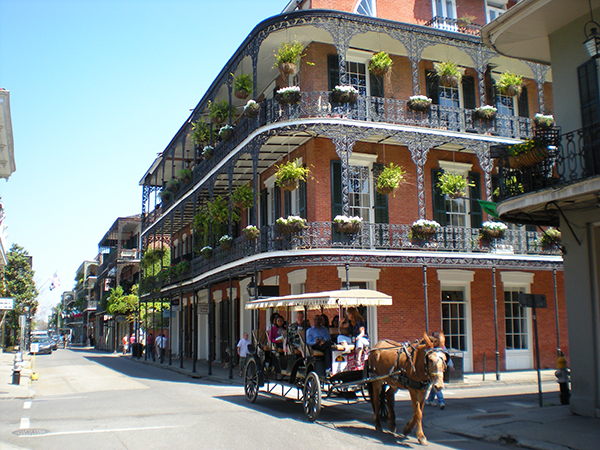 There's no place on Earth quite like New Orleans. With an incredible history, all the debauchery of Vegas with all the family-friendly fun of Disneyland and plenty of things to see and do, this is a destination for everyone.
Once you've flown into Louis Armstrong New Orleans International Airport, your next step should be picking up your rental car. While there are some decent public transportation options in the city, having your own vehicle will give you ample opportunities to explore. Look up car rental deals until you find the one that's right for you.
Once you're settled, you can start exploring. These are our suggestions for places to stay, things to see and treats to eat.
Hotels
You'll have ample options for great hotel stays in a city this size. Before you book, look up New Orleans neighborhoods and figure out where you might want to spend the most time. Here are some recommendations:
Hotel Provincial in the French Quarter. History and modern amenities combine at this luxury hotel, which features a large courtyard, two pools and beautiful tropical patios.
Melrose Mansion in the French Quarter. This recently renovated Victorian mansion has 14 luxurious rooms, and it's the perfect place to stay on a romantic New Orleans visit with your significant other. You'll be close enough to the restaurants and bars to have a great time, but far enough away to enjoy some restful sleep. If you stay here, spring for a luxury car rental to make the trip truly memorable.
Hotel Indigo in the Garden District. This upscale boutique hotel is close to the French Quarter as well as many uptown attractions like the Audubon Zoo. During the carnival season, you'll be able to see the crowds passing by from the front door.
Hotel Monteleone in the French Quarter. This hotel dates all the way back to 1886, and it's still breathtakingly beautiful. Aside from the standard amenities like WiFi, parking and a business center, the hotel has an actual rotating carousel bar onsite.
Royal Sonesta, Bourbon Street. This four star hotel sits right in the heart of all the action, and the decor can only be described as timeless elegance mixed with Southern refinement. Irvin Mayfield's Jazz Playhouse is onsite, so you won't have to venture far for amazing entertainment.
The Prytania Park Hotel in the Garden District. This small hotel has a variety of room types that range from historic to modern, and it's a great place to stay for families. Though the building is old, the hotel has plenty of newer amenities like WiFi and magnetic keys.
Restaurants
Come hungry to New Orleans, and bring your stretchy pants. This city is full of amazing food, and you'll find something to suit every taste and budget. Here are some of NOLA's best spots to grab a bite:
Emeril's at 800 Tchoupitoulas St for Creole food in a fancy setting. Chef Emeril Lagasse doesn't disappoint.
N7 at 1117 Montegut St for bistro fare and wine. Indoor and outdoor seating is available, and they're open every day except Sunday.
Revel at 133 N Carrollton Ave. for casual food and delicious cocktails. This spot is run by local bar legends Laura and Chris McMillian, and it's a popular place for locals and tourists alike.
Cake Cafe at 2440 Chartres St for an unforgettable breakfast. Enjoy this local gem with your family or with a group of adults. The setting is laid back at the food is delicious.
Atchafalaya at 901 Louisiana Ave for a boozy brunch. Plan ahead and make a reservation for this restaurant. You'll be glad you did when you're sipping a bloody mary and eating something amazing.
La Petite Grocery at 4238 Magazine St for fine dining quality food in a laid back setting. This local made-from-scratch fare will give you a memorable experience.
Sights and Tours
There are so many things to do in New Orleans, you'll have to take several trips in order to see the best sights (oh, darn). Here are just a few highlights: 
Steamboat Natchez. This is an excellent family-friendly option, but it's also great for couples or groups of friends. Choose between a standard cruise, a dinner cruise or a Sunday brunch jazz cruise, then enjoy taking in the sights from the ship.
Audubon Zoo. This is one of the largest zoos in the country, and it's definitely one of the most impressive. You'll see a mix of exotic animals from around the globe, lush gardens and plenty of hands-on animal encounters.
2 Chicks Walking Tours. This company specializes in private tours and an elite selection of boutique public tour experiences. You can see the Garden District, French Quarter or even the cemeteries and old brothels. 2 Chicks loves to talk New Orleans.
Evergreen Plantation. Hop in your hybrid car rental and head to Edgard to check out the Evergreen Plantation. They offer daily tours every day but Sunday that last for 90 minutes and cover a lot of history.
Mardi Gras World. If you can't make it for Mardi Gras, you can go to Mardi Gras World. It's a wonderful behind the scenes look at Mardi Gras, and it's a lot more family-friendly.
Enjoy The Big Easy!