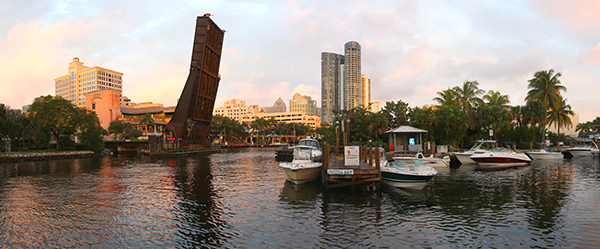 Located on the southern coast of Florida about 30 miles north of Miami, you'll find the beautiful city of Fort Lauderdale. This Floridian destination sometimes gets overshadowed by Orlando and Miami Beach, but it can certainly hold its own when it comes to things to do and see. Car Rental Express offers car rental deals for the Fort Lauderdale-Hollywood Airport. And once you're behind your temporary set of wheels, there will be much to explore.
Fort Lauderdale is famous for its beaches, culture and arts scene. This is a wonderful city to bring your children to visit, and it's also great for an adults only getaway. From the landscaped parks and sandy beaches to tasty restaurants and the historic riverfront, Fort Lauderdale is fun to experience and often difficult to leave. 
Here's a brief rundown of some of Fort Lauderdale's highlights:
Hotels 
This beachy city has plenty of places to rest your head, ranging from basic accommodations to luxury hotels.
The Aqua Hotel at 3016 Windamar Street - For a nice, clean, affordable option close to the beach. 
The Victoria Park Hotel at 855 NE 20th Avenue - For a great value with convenient amenities like a pool, hot tub and onsite restaurant.
The Alhambra Beach Resort at 3021 Alhambra Street - For a relaxing, romantic experience.
The Pillars Hotel at 111 N Birch Road - For an elegant, peaceful stay for anyone planning on spending some downtime at the hotel (they have an amazing pool and beautiful gardens).
Restaurants to Try
One of the most fun parts of any vacation is trying out the local food scene. Fort Lauderdale doesn't disappoint. Give one (or all) of these spots a try:
Mai-Kai Restaurant and Polynesian Show at 3599 N. Federal Highway - For a one-of-a-kind dinner and a show. Not only can you feast on delicious Polynesian food, you can enjoy live entertainment from local performers for $13.95 (kids are free!). You'll need a reservation for this experience, so keep that in mind.
Market 17 at 1850 SE 17th Street - For healthy farm to table food (and great beer and wine) in an upscale environment.
Steak 954 at 401 N Fort Lauderdale Beach Blvd - For a delicious fine dining experience at the W Hotel. Not only is the dinner menu outstanding, but the atmosphere, which includes a jellyfish aquarium and ocean views, is top notch.
Coconuts at 429 Seabreeze Blvd - For a tasty casual seafood meal right on the water. Enjoy a dinner entree and a cocktail or come for their savory Sunday brunch.
Bob & Wilson's at 450 E las Olas - For a quick (but good) breakfast, excellent coffee or a casual soup and salad lunch.
Greek Islands Taverna at 3300 N Ocean Blvd - This family owned Greek eatery offers outdoor seating and an impressive menu.
Top Attractions
Flamingo Gardens
You'll have multiple options to see some flamingos and flora in Fort Lauderdale. Luckily, if you have a nice luxury car rental, you can catch them all. Explore the Wray Botanical Collection of over 3,000 species of tropical and native plants, check out the 1930s Wray Home Museum, experience the Everglades Wildlife Sanctuary and head to the Bird of Prey Center. These spots are perfect for seeing Florida's finest native plants and animals.
Fort Lauderdale Beach 
This might be the most popular place in town, but it's definitely worth exploring. If clean, warm sand, seasonal swimming, a lively atmosphere and beachside restaurants and bars sound appealing, you'll love Fort Lauderdale Beach.
Shopping on Las Olas Boulevard 
Looking to do some shopping? This is your place. Along with the 65 shops ranging from women's apparel to children's toys, you'll find 10 art galleries and over 30 spots to dine and drink al fresco.
Riverwalk Park 
Take a charming stroll along the river and see the Riverwalk Arts & Entertainment District along Las Olas Boulevard. Fort Lauderdale's lush tropical waterfront in the midst of its downtown urban metropolis is truly unique, and it's very enjoyable.
Fort Lauderdale Antique Car Museum
Check out this collection of classically beautiful antique cars. This is the perfect place to spend a (rare) rainy day in the city.
Gondola Rides 
Did you know that Fort Lauderdale is the Venice of America? Las Olas Gondola offers scenic tours every day including a "Lovely Romantico Tour" that comes with a sweet message in a bottle set with a silky rose.
Bluefoot Pirate Adventures
If you're looking for a little adventure with your kids, the Bluefoot Pirate Adventures offer a fun experience for the whole family. The pirate ship is available for rent for birthday parties and private events, but they also offer daily tours.
Day Trips
Are you enjoying Fort Lauderdale for a week or longer? Jump in your hybrid car rental and explore one of the many nearby destinations for a day.
Miami Beach
Even on a busy traffic day, you can drive to Miami Beach in about an hour. Miami offers a completely different scene than Fort Lauderdale, and if you've never been, it's absolutely worth checking out.
Boca Raton
Boca Raton is a short drive from Fort Lauderdale (about 30 minutes). The southernmost city in Palm Beach County has beautiful beaches, parks, tourist attractions and the Town Center Mall.
Delray Beach
Described as a vibrant, intimate town with big city sophistication, Delray Beach is a true gem. It's located about 28 miles north of Fort Lauderdale and offers fine dining, upscale shops, and two miles of gorgeous beaches.
Enjoy your travels!