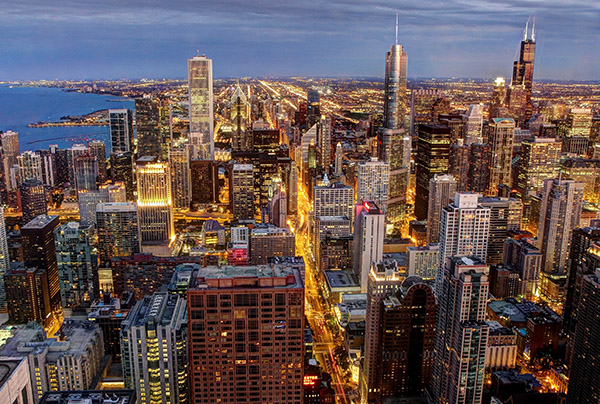 The Windy City. Chi-town. City by the Lake. Whatever you call it, Chicago is a wonderful vacation destination, especially in the summertime. From the exciting Cubs games to the vibrant arts scene and the amazing Italian food, you'll never run out of things to see and do.
Start by looking into car rental deals from Chicago O'Hare Airport. Chi-town is a big city, but it's very driveable and fairly easy to navigate. Having a rental car will make getting around infinitely easier. And remember, if you've served the country, you can always look for military car rental deals on CarRentalExpress.com. 
We hope you enjoy our recommendations for some of the many wonderful Chicago spots we know and love!
Restaurants to Try
●      The Purple Pig at 500 N Michigan Ave, for a delicious Mediterranean meal of small plates chased with fine wine.
●      Piccolo Sogno at 464 N Halsted St, for rustic Italian fare.
●      Nico Osteria, at 1015 N Rush St, for high end Italian food and fresh seafood cooked to perfection.
●      Lou Malnati's Pizzeria, at 805 S State St, for good old-fashioned classic Chicago style deep dish pizza.
●      Lula Cafe at 2536 N Kedzie Ave, for an outstanding and eccentric farm-to-table brunch.
●      Brunch, at 644 N Orleans St, for classic brunch food or a light lunch.
●      Hoosier Mama Pie Company at 1618 ½ Chicago Ave. (also in Evanston), for a slice (or two) of tasty pie.
●      Avec at 615 Randolph St, a French bistro, for a romantic date night.
●      Crosby's Kitchen at 3455 N Southport Ave, for a kid-friendly dining experience the whole family will appreciate.

Hotels
●      Hard Rock Hotel at 333 N Dearborn St, for an uber-hip atmosphere and a perfect location.
●      Kinzie Hotel at 20 W Kinzie St, for a boutique hotel experience close to Millennium Park.
●      ACME Hotel Company Chicago, at 15 East Ohio Street, for a trendy spot and a comfortable stay.
●      The Langham at 330 N Wabash Ave, for a beautiful and romantic stay when you feel like being pampered.
●      Swissotel Chicago at 323 E Upper Wacker Dr, for a truly family-friendly experience. Swissotel has kid-friendly suites that include a kid-sized table and chairs, stuffed animals, coloring books and video games.
●      Best Western Grant Park Hotel at 1100 S Michigan St, for when you need an affordable room but don't want to scrimp on quality.
Top Attractions
Where do we even begin? Chicago is such a wonderful city, and you certainly won't be bored while you're there. These are just a few of the most recommended things to do:
Navy Pier 
No trip to Chicago is complete without visiting this classic landmark. Whether you're 1 or 100, you'll appreciate the pier. Take the little ones through the Chicago Children's Museum, take a ride on the ferris wheel, catch a 3D film at the IMAX Theater, enjoy some live music in the beer garden or hop on a cruise around the harbor. Don't forget to grab a bite at Harry Caray's Tavern or Giordano's Pizza.

Willis Tower 
Call it the Smith Tower if you'd like, but the Willis Tower was renamed years ago. It still has the notorious Skydeck Chicago with The Ledge, a glass balcony extending four feet outside the 103rd floor. Stepping onto the glass is not for the faint of heart, but it's an exhilarating experience.

Grant Park
Grant Park is an urban oasis full of great walking paths and photo ops.
Art Institute of Chicago
If you're not into art, you very well could be after a trip to the Art Institute of Chicago. This world class museum has hundreds of thousands of works of art, some of it going back thousands of years. It's definitely worth a visit.

Wrigley Field 
If you're lucky enough to be in Chicago at the right time, don't pass up the chance to go to a Cubs game. You might not be a Cubs (or even a baseball) fan, but the field is a fun place to be, and the energy at the games is like no other. By the time the ball game ends you'll be singing along with the fans: "Hey, Chicago, what do you say? The Cubs are gonna win today…"

Michigan Avenue and the Magnificent Mill

This is probably one of the most beautiful boulevards in the country. The Magnificent Mile is the section of Michigan Avenue north of the Chicago River and home to plenty of boutiques, galleries and high end shops.
The Museum of Science and Industry
You'll find this museum at the north end of Jackson Park, and it's definitely one of the most impressive places in the city. You'll find exhibits devoted to the application of natural laws in technological and industrial development, and it might be the first museum in the country to incorporate the idea of hands-on exhibits.
Garfield Park Conservatory
Chicago might have some beautiful parks, but this gorgeous botanical garden really stands out among them. Built in the early 1900s, it was designed by a noted landscape architect named Jens Jensen.

The Rookery Building
As if its museums and parks weren't enough, Chicago boasts some of the finest architecture in the country. The Rookery Building is a 12 story structure that has a Roman Revival and Queen Anne style facade, and it's listed on the Register of National Historic Places.
Enjoy your visit to the Windy City!