Celebrate
Love: The Most Romantic North American Getaways
Submitted by
Anonymous (not verified)
on Tue, 02/09/2016 - 23:52
Valentine's Day is this weekend, and as luck would have it, it's a three day weekend for most. This is the perfect chance to pack your bags, treat yourself to a nice luxury car rental and take a road trip to a romantic destination with your special someone. And with every part of North America having plenty of spots for sweethearts to stay, your possibilities are endless.
Here are just eight of the many possibilities for enjoying a long weekend of love:
1.     Snoqualmie, Washington.
Book a suite at the acclaimed Salish Lodge & Spa, where you'll enjoy beautiful views of Snoqualmie Falls. The best part is, you don't even have to leave the resort to enjoy a wonderful weekend. valet parking is included with your room rate, and all suites have amenities like jetted tubs and white robes. There are two outstanding restaurants to choose from, in room dining, pay per view movies and a gift shop with an incredible wine selection.
If you do venture out from the hotel, you can explore Snoqualmie Falls by checking out the viewpoint, picnicking at the park, or hiking on the trails. If you get the urge to shop, the North Bend Premium Outlets are a few miles away. After enjoying a nice, long hike or a day of shopping, treat yourselves to couples' massages at the Salish Spa...you'll melt away months' worth of stress in an hour.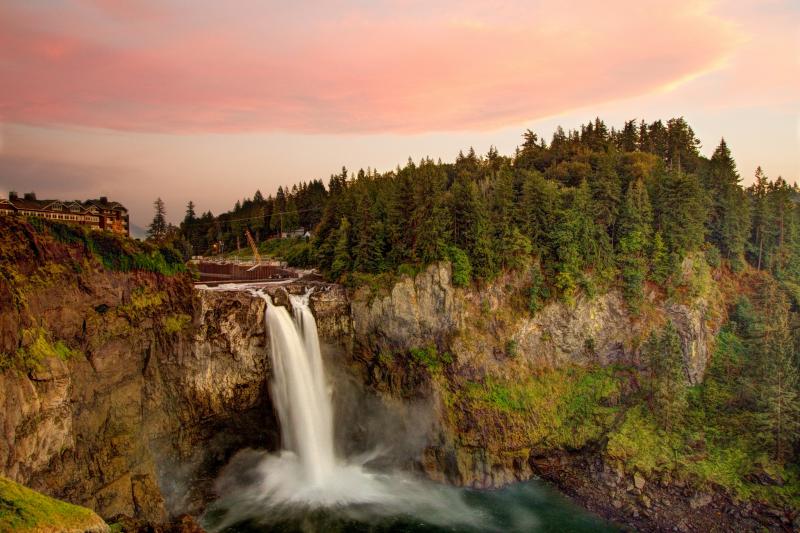 2. Cannon Beach, Oregon.
Everyone in the Pacific Northwest knows that Cannon Beach is a prime destination for romance. Book a room at the gorgeous Hallmark Resort & Spa, which sits right on the Pacific Ocean. You'll be within walking distance of all the shops, restaurants and bars the city has to offer...but no one will judge you if you decide to park your exotic car rental and hole up in your oceanfront room or their award-winning spa.
If you enjoy a good glass of vino, treat your sweetie to wine tasting at The Wine Shack. The owner is a friendly local with a kind heart and plenty of good stories about the area, and he'll steer you toward the best bottle to enjoy with your beloved. Cannon Beach is also family-friendly, so if you'd like to bring your little ones along on your escape, you'll feel welcome to do so.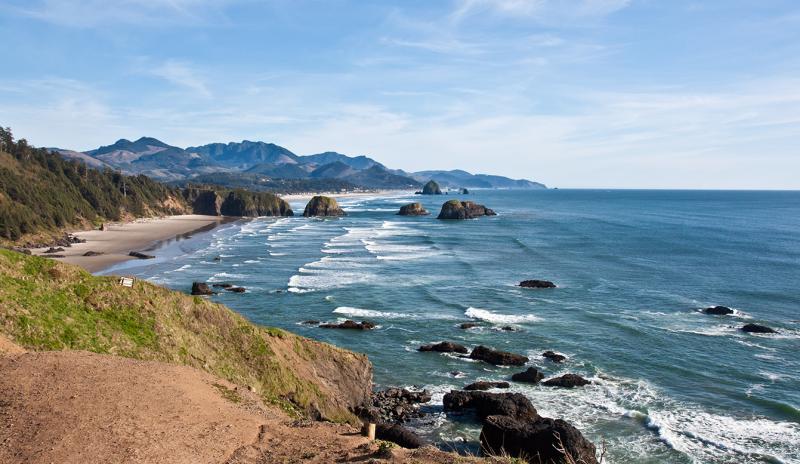 3. Monterey, California.
Forget the often crowded Napa or Sonoma—Monterey is home to over 85 winemakers along with your choice of charming and romantic dining options. Stay at the charming Old Monterey Inn, a Bed & Breakfast perfect for a couples' retreat. A stroll through the gardens alone will be enough to relax you, but the onsite spa certainly won't hurt. Add in a few walks along the beach and you'll return home feeling refreshed, rejuvenated and more in love than ever before.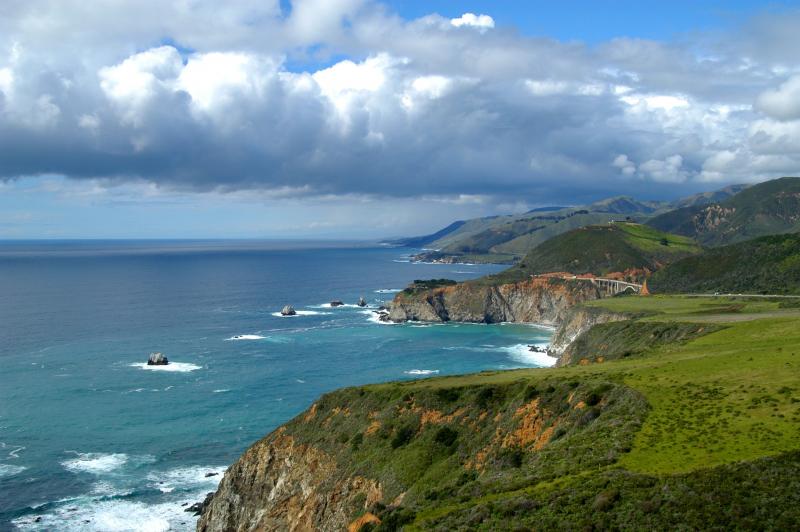 4. Sedona, Arizona.
Red Rock Country has long been considered a romantic destination. Between its distinct and amazing views, relaxing atmosphere and gorgeous hotels, it makes a perfect escape. This is a good time of year to go because temperatures in Arizona aren't as scorching hot as they are during the summer. Treat yourself to some accommodations at the Enchantment Resort, which has been voted one of the top destination spas in the world. The resort is a collection of suites and small casitas set on 70 acres of land, so they're sure to have whatever you're looking for. They also offer packages that include romantic touches like couple's massages and gift baskets.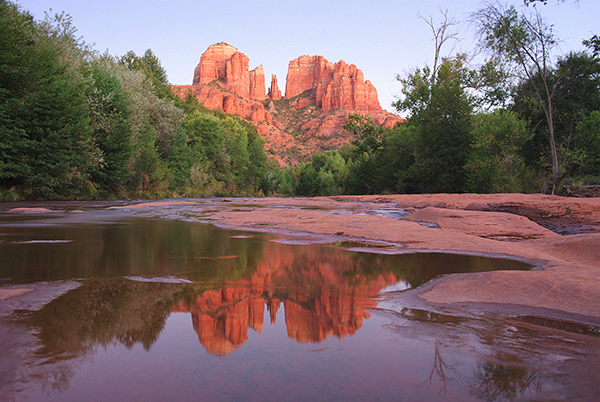 5. West Glacier, Montana.
For those that prefer a more adventurous escape, a drive out to Big Sky Country will offer just that. Glaciers' Mountain Resort is an outdoor enthusiast's paradise. It's located just five miles away from Glacier National Park, which is arguably the most beautiful place on Earth. You can hike through Glacier, ski on the slopes of Big Mountain Ski Resort, or even try your hand at ice fishing. Then you and your other half can come back to your luxurious cabin and warm your feet by the gas fireplace.
This might be a rustic getaway, but you'll find all the comforts of home including wireless internet, a full kitchen and cable television. Consider it a peaceful getaway where you're able to remain connected to the outside world.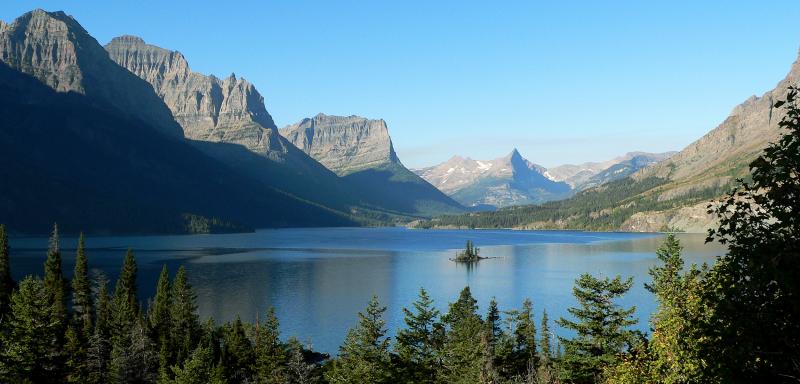 6. Chicago, Illinois.
If you live in the suburbs or you're craving some excitement, perhaps an escape to the city will be more your style. At the Dana Hotel & Spa in North River, you'll find a swanky lounge, a styling restaurant and a beautiful spa along with guest rooms with hardwood floors and plush beds. Chicago is known for its decadent dining, vibrant art scene and endless live entertainment, so if you venture out into the city, you certainly won't be bored.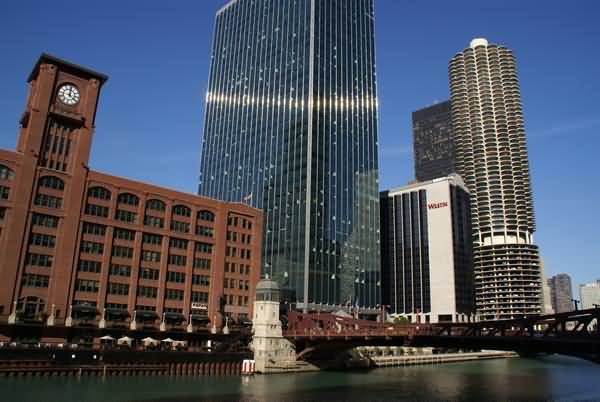 7. Pocono, Pennsylvania.
Everyone living in this part of the country knows that the beautiful Pocono Mountains offer serenity, peace and romance along with undeniable beauty. Treat your sweetie to a getaway to Paradise Stream, which boasts an over-the-top jacuzzi suite with a fireplace, heart-shaped pool, dry sauna, double shower and a seven foot champagne glass whirlpool bath for two. As if that isn't enough, the suite also has its very own massage table!
But don't get too caught up in your room...this all inclusive resort has several restaurants and bars to choose from as well as live entertainment, from musical acts to stand up comedy. Paradise Stream offers a once in a lifetime romantic experience.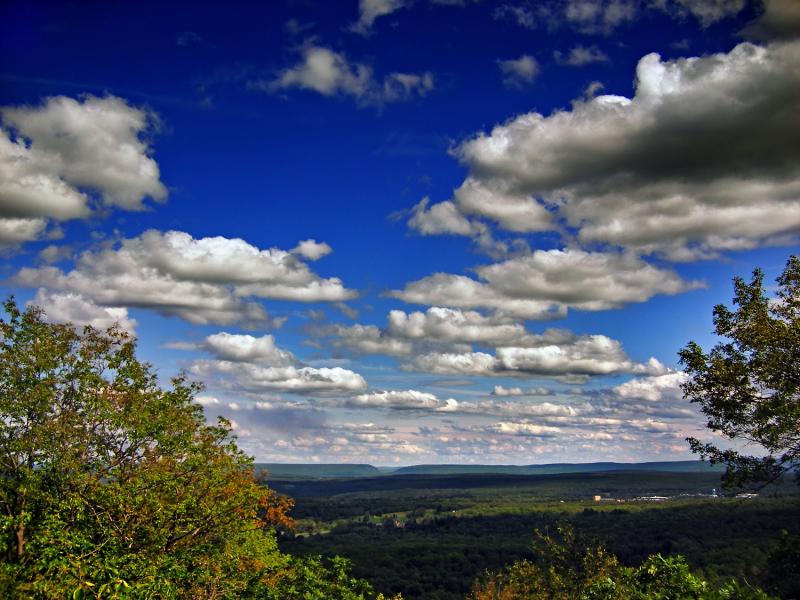 8. Charleston, South Carolina. 
What more could you ask for than centuries-old mansions, moss-draped trees and cobblestone walks? How about beautiful weather, delicious restaurants and nearby beaches? Stay at the Fulton Lane Inn for unbeatable hospitality, including an evening wine and cheese reception and 24 hour concierge service. Then put on your best casual-chic outfits and explore the city. Charleston is full of Southern charms.