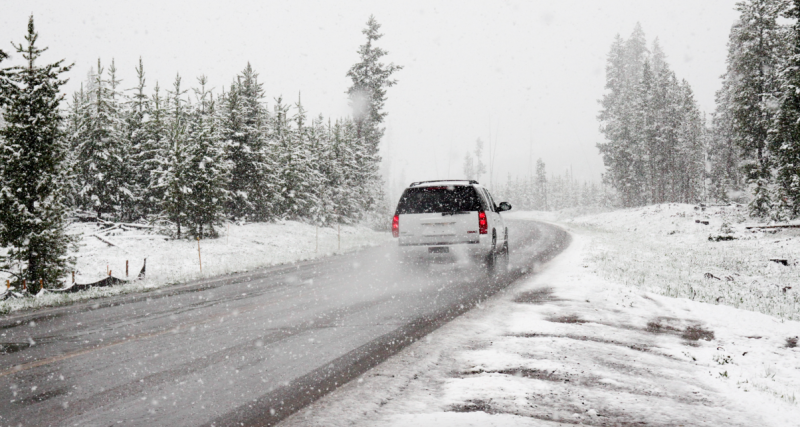 As we transition from fall to winter in the USA, the weather gets colder and sometimes the driving conditions become less than ideal. But that doesn't mean you should limit your road trips to spring and summer when the days are warmer. There are plenty of beautiful road trips that can be enjoyed all winter long—in fact, some parts of the country are especially beautiful in December, January and February.
If you'll be taking your road trip in a rented car, we recommend a hybrid car rental for the fuel efficiency. Depending on the part of the country you'll in, you'll have your choice of scenic drives. 
Pacific Northwest Winter Road Trips
●      Seattle to Leavenworth, Washington. While this road trip is certainly weather dependant, if it's not too snowy, it can be taken in less than three hours. Leavenworth is one of the top holiday towns in the country, boasting a holiday event schedule that includes the lighting of a large Christmas tree. You can sip hot chocolate as you shop the Christmas-themed stores, eat some bratwurst and the back in the Seattle area in time for dinner—or, you can cozy up in a Bavarian-themed hotel room or a cabin for the weekend.
●      Portland to Bend, Oregon. This three hour drive will take you to a family-friendly town with resorts full of sledding and tubing, plus plenty of trails for cross-country skiing. Also, you'll enjoy a beautiful drive full of trees and snow-capped mountains. Whether you take Santiam Pass or coast through Hood, Oregon, you'll see some seriously gorgeous winter landscapes.
Southwest Winter Road Trips
●      Arizona's big loop. It's true, you won't see snowy mountains or encounter snowstorms when you drive through Arizona. But you will pass through three deserts and see that, contrary to popular belief, deserts are not always hot. There's nothing quite like a nighttime desert chill. But there's also nothing like an Arizona sunset, so if you'll be in the Southwest this winter, take the opportunity to drive through this beautiful state.
●      Albuquerque to Taos, New Mexico. The Taos Art Colony has made this New Mexico mountain town an artistic hub. Between Taos Pueblo, a 1,000 year old community and the Taos Ski Valley, there will be plenty to see and do.
Midwest Winter Road Trips
●      The Lake Superior Circle Tour. Not only will you get to pass through three wonderful states (Minnesota, Wisconsin and Michigan), but you'll also enjoy some stunning winter lake sunsets. This is a 1,300 mile journey, so it's best to allow yourself enough time to enjoy every community. Take a week off for this road trip—that way you can get a car rental discount for a more long-term rental.
●      Chicago to Kohler, Wisconsin. If you're visiting friends or family in Chicago this winter, take the 145 mile drive North to Kohler. In addition to having plenty of winter activities like ice skating, cross-country skiing and Bavarian curling, Kohler is home to Wisconsin's only five star resort, The American Club, where you'll enjoy plenty of luxurious amenities. 
Northeast Winter Road Trips
●      Boston to Newport, Rhode Island. Every February, Newport hosts the Newport Winter Festival. For ten straight days you can enjoy local chili cookoffs, listen to an abundance of music and take in some holiday lights before they all get packed away for spring.
●      Philadelphia to Lancaster, PA. The heart of Pennsylvania Dutch Country makes for the perfect day or weekend escape from the big city. Visitors come from all over the area for events like caroling, horse-drawn carriage rides and breakfast with Santa Claus. Best of all, most of the activities are free or almost free.
Winter Road Trips in the South
●      Charlotte to Brevard, North Carolina. Mountains, waterfalls and winding roads await you in the stunning small town of Brevard. Though you might not see much snow, Brevard becomes a winter wonderland during the holiday season with lights, a tree lighting ceremony and lots of activities.
●      Atlanta to Savannah, Georgia. Who needs to be snowed in to enjoy winter? Along with having some of the country's best golf, Savannah has gorgeous beaches and plenty of fresh seafood to enjoy. There are also several interesting historic tours as well as a "Holly Jolly Holiday Trolley" for those who visit during December.