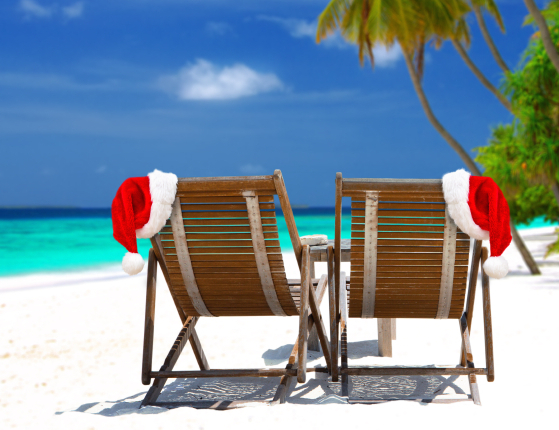 Home for the holidays last year? You're probably planning a great escape in 2014. Put in for vacation time, gather up your car rental coupons, and decide where you'll be traveling to this Christmas. 
1. Puerto Rico 
With its own way of celebrating the holidays, your vacation in Puerto Rico will be filled with storytelling, ethnic food, and an ancient city lit up with Christmas lights more beautiful than you've ever seen. Local cuisine includes roast suckling pig, pork "pastries" wrapped in plantain leaves, coconut pudding, and their own "Coquito" eggnog made with rum, cinnamon, cloves, coconut, and egg. While The Three Kings can be found in many Latin American Christmas celebrations, the reyes magos add another spiritual layer to holiday celebrations in PR.
2. Alaska
Not everybody wants to escape to warm weather for Christmas. If you love the cold, book a trip to Alaska, the "North Pole" to letter-writing kids who send their Christmas lists to Santa (the Santa Claus House is located in North Pole, Alaska). The biggest perk of visiting the freezing state at the end of December is seeing the Northern Lights, which are at their most beautiful that time of year.
3. Colorado
Sticking with the cold theme, skiers can't do much better than gliding down a Colorado slope on Christmas morning. Plus, doesn't "Christmastime in Aspen" have a nice ring to it? If you want to get off the mountain for a day, get a great car rental deal and explore the area's chic towns. Adding to the holiday feel is the fact that Colorado is where NORAD resides, the governmental agency that keeps track of Santa's course on Christmas Eve.
4. Chicago
A lot of people think of New York as Christmas' greatest city, but Chicago has a ton to offer, too. Since "The Windy City" is certainly not a misnomer, you'll want to research cheap car rentals to get you to and from the hotspots, which include the Magnificent Mile's millions of twinkling lights and the Christkindlmarkt, which celebrates the city's German heritage.