15
Perfect Places To Visit In June
Submitted by
Anonymous (not verified)
on Mon, 06/06/2016 - 21:05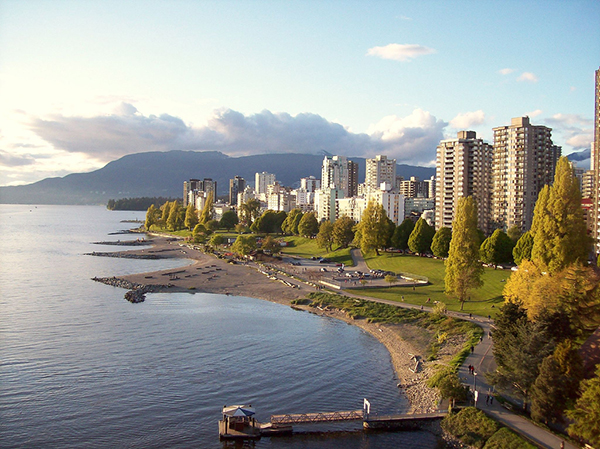 June is such a wonderful month. The weather warms up, school wraps up for the summer and wedding season officially begins. This is the perfect time to book a flight, look up car rental deals and explore some new territory. And while there's not really a bad place in North America to visit in June, these 15 spots are particularly perfect.
1.     Yellowstone National Park, Montana and Wyoming. Most of the Yellowstone crowds come out later in the summer, but Yellowstone is still warm and gorgeous in June. Go hiking, take in the natural wonders, view the wildlife and see the geysers. You can camp near Yellowstone for an authentic "back to nature" experience or you can stay at some of the lodging inside the park. 
2.     Vancouver, British Columbia. Like many parts of the Pacific Northwest, Vancouver sees a lot of rain throughout the year. But in June, the sun comes out and the city gets a break from the rain. But because the temperatures aren't as high as they can get yet, Vancouver's attractions will be less crowded this month, and you can still find deals on hotel rooms.  
3.     Niagara Falls, New York and Ontario. Niagara Falls is always packed, and summer is no exception. But if you go at the right time in June (weekdays are preferable), you can avoid some of the bigger crowds. Stay on the Canadian side for a less cluttered experience, and don't forget to go on the Maid of the Mist tour.  
4.     New York City. Visit the Big Apple before the city streets are scorching and the tourists come out in full force. It's always packed with people, but early to mid-June seems to attract fewer people than July and August. 
5.     Dallas, Texas. You may not think of Dallas as a tourist hot spot, but there's a lot to do and see in this beautiful city. Between the food, festivals and the Art District, you won't be disappointed. June is one of the most affordable months to visit.  
6.     Moab, Utah. Moab is absolutely beautiful, and Arches National Park is the perfect place to hike. The weather can get insanely hot during the summer here, but you'll see tamer temperatures if you go in early June. 
7.     Coeur d'Alene, Idaho. North Idaho is beautiful in any season, but summers are especially wonderful due to the abundance of lake activities. You'll find great dining, cute shops and water sports in and near Coeur d'Alene, not to mention an absolutely beautiful resort with a world famous golf course with a floating green. Go for a luxury car rental and treat yourself to a world class vacation here. 
8.     Rocky Mountain National Park, Colorado. This beautiful park is nice and thawed out by June, and the trails are fully open to the public. June is the perfect time of year to explore because the tree buds have opened, the wildflowers are in bloom and newborn animals have started to emerge with their mothers.  
9.     Boston, Massachusetts. Boston is one of the country's best walking cities, and it's a haven for history buffs. June is the perfect time to go—and better yet, visit Boston at the end of June and stick around for the Independence Day celebrations.  
10.  Mount Rushmore. The Badlands are beautiful in their own way, and this fine national monument is worth visiting. You'll have to fly into Denver, Jackson Hole or Rapid City Regional Airport, then get a hybrid car rental since you'll need the great gas mileage. There's a lot more to explore than just the monument—Rapid City has some great little tourist stops, and the notorious Wall Drug Store is worth the drive. 
11.  Santa Barbara, California. Visit the smaller, calmer city to the north of Los Angeles and enjoy its laid back vibe and absolutely perfect temperatures (we're not kidding...there's a reason the cost of living is so high). Santa Barbara is an ideal June destination because most of the out of state tourists are heading south to Disneyland and other major attractions. 
12.  Ithaca, New York. The Finger Lakes region of this stunning state comes alive in late spring. You'll have an abundance of fresh produce to nibble on, new wine to taste and sunny trails to hike, not to mention the sparkling lakes.  
13.  The San Juan Islands, Washington State. The islands offer a glimpse into a slower-paced, more laid back way of living. They can get very crowded during the summer months, but that doesn't mean June isn't a wonderful time to visit. It's not quite as packed before the 4th of July, and if you want to avoid the crowds, go for the more rural Lopez Island.
14.  Knoxville, Tennessee. Nestled on the banks of the Tennessee River and in the foothills of the Smoky Mountains, Knoxville is a beautiful place. It really comes alive in June, when the weather warms up enough to fully enjoy the large Market Square and other outdoor attractions.
15.  Glacier National Park, Montana. The Crown Jewel of the Continent should be on everyone's travel bucket list—it's incredible. Many of its roads and trails are closed for the winter and early spring, but by June you'll have access to its best spots.
Enjoy your June travels!