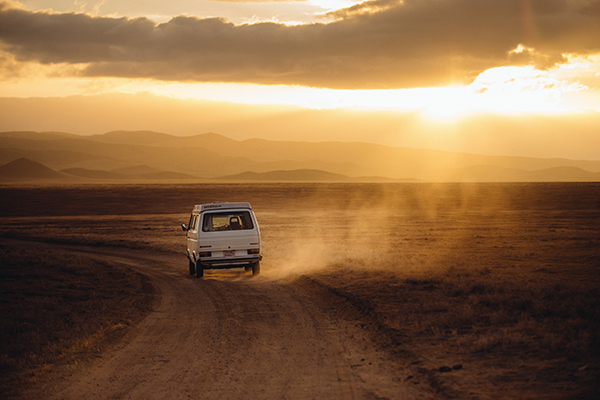 Summer is the unofficial road trip season. School is out, wedding dates are nearing, and families are getting geared up to travel near and far. And with the sunny weather and long days that lie before us, it's the perfect time to go somewhere new.
Maybe you don't have the time or the funds to go that far this year, or perhaps once you've flown to your destination of choice you'll only have one or two days to go exploring by car. But considering all the places you can go on one tank of gas (especially if you get a hyrbid car rental), your limitations won't stop you from exploring some new territory this summer.
Here are 10 road trips you can take on one tank of gas:
1)    Los Angeles, California to San Diego, California. San Diego offers a little respite from the chaos of LA, but it's still packed with places to see, abundant dining options and beautiful beaches. At 120 miles each way, you'll get there and back with one tank as long as you fill up before you leave. While you're in San Diego, don't pass up a chance to enjoy some beach time. Pacific Beach and La Jolla Cove are great options.
2)    Seattle, Washington to Vancouver, B.C. Grab your passport, climb into your luxury car rental and head for the border. Vancouver is 140 miles from Seattle, and it's especially beautiful in the summertime. Have an urban picnic at Stanley Park, explore Kitsilano Beach or VanDusen Botanical Garden, and take advantage of the wonderful shopping before heading back to the Emerald City.
3)    Chicago, Illinois to New Buffalo, Michigan. Chicago is an amazing city, but if you need a breather, head 70 miles east to New Buffalo, Michigan. This off-the-beaten-path destination has a beautiful county park, a public beach and the Four Winds Casino. You can also take a boat tour or enjoy a more affordable spa day than Chicago can offer.
4)    San Antonio, Texas to Austin, Texas. Craving some culture? The artsy city of Austin is only about 80 miles away from San Antonio, and it always has something fun going on. The Blanton Museum of Art features art from the University of Texas, and the Lady Bird Hike-And-Bike Trail is a wonderful way to see the city. And if you can catch a performance at Austin City Limits Live, you'll never forget it.
5)    Dallas to Grandview, Texas. Sometimes a little small town experience is just what you need. Located about 50 miles from Dallas, Grandview has the Beaumont Ranch, which features outdoor activities like horseback riding and ziplining adventures. You can spend the night relaxing at the ranch or head back to Dallas (without filling up your car, of course).
6)    New Orleans, Louisiana to Baton Rouge, Louisiana. You could spend your entire life in New Orleans and never run out of things to do. That being said, Baton Rouge is a mere 81 miles away and also offers plenty to see. Louisiana's old State Capitol is a must-see for any history buffs, and the Bluebonnet Swamp Nature Center offers the chance to see a real swamp for any city slickers who have never experienced one. If you stay for dinner, head to Tony's Seafood for some of the best food in the South.
7)    Manhattan, New York to Montauk, New York. Everyone in New York City knows about the Hamptons, but Montauk offers a peaceful respite from the city that usually isn't quite as crowded. It's about a 120 mile drive, but remember to allow some time for city traffic. Once you're there, head to Montauk Point State Park for some beautiful beach views. Montauk County Park is also worth exploring, and Gosman's Dock serves some seriously delicious fish and chips.
8)    Philadelphia, Pennsylvania to Atlantic City, New Jersey. Can you believe Atlantic City is a mere 62 miles from the heart of Philadelphia? Atlantic City offers all of the gambling and debauchery of Las Vegas in a family-friendly beachside setting. Explore the boardwalk, do some shopping or try your hand at some blackjack or slots. You might return to Philly with an empty wallet, but you'll be full of memories.
9)    Phoenix, Arizona to Sedona, Arizona. Arizona is scorching hot in the summer, there's no doubt about that. But if you're going to be hot, you may as well enjoy the season in a tranquil place like Sedona. Known for its energy vortexes that are rumored to have metaphysical properties, the city certainly attracts some New Age types. You'll also find amazing hiking spots like Oak Creek Canyon and Red Rock State Park, a 286 acre scenic nature reserve.
10) Portland, Oregon to Newport, Oregon. The Oregon Coast is incredible in any season, even when it's cold and dreary. But it becomes a magical place during the summer, staying warm enough to explore the beach in short sleeves but cool enough to really enjoy being outside. Newport is a 135 mile drive from Portland and features the Oregon Coast Aquarium and the beautiful Nye Beach. If you go, head to the Rogue Ales Bayfront Public House for a local brew and some of the best clam chowder on the planet.
Remember, you don't have to venture too far from your home base to have an adventure. And summer is the perfect time to go exploring.