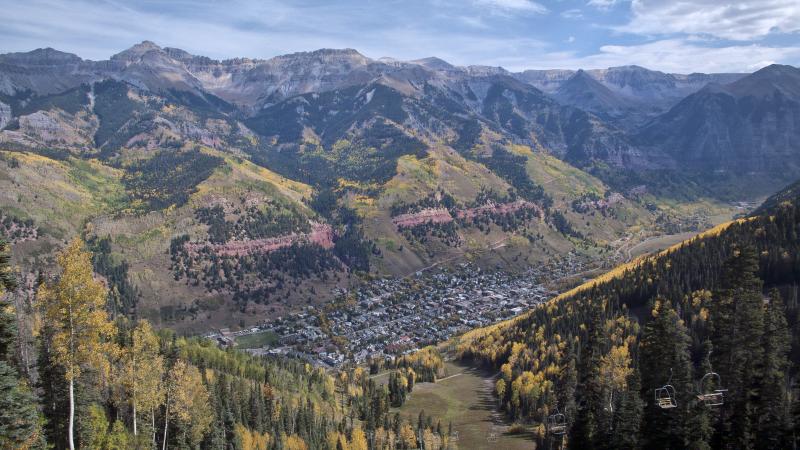 It may feel as if we were just celebrating summer's start, but now September is on the horizon and fall is right around the corner. Whether you were too busy to enjoy a summer getaway or you just can't bear the thought of slowing down your travels, now is the perfect time to book a little September vacation. 
But where do you go when it's not really summer anymore, but not quite full-on fall? Don't worry, we've got 10 excellent suggestions to help you decide, and once you've booked through Car Rental Express, we'll have the rental car gassed up and waiting for your arrival. 
Here are 10 wonderful American September destinations:
Grand Teton National Park, Wyoming
Why Wyoming, you might ask? Because the bright hues of red, orange and yellow dominate this incredible national park in early fall, signaling a gorgeous getaway. You'll find peace, tranquility and relaxation at this quiet piece of paradise. Look for Wyoming car rental deals before embarking on this journey. You can see this beautiful park in one solid day, so you'll want to have a reliable vehicle ready to take you all over the area. There's a lot of natural beauty to discover. 
Telluride, Colorado
Three words: Blues and Brews. That's the Colorado festival that turns Telluride into a big, fun party every September, and it the past it has featured performances by the likes of BB King. This year the party is going down September 16-18, and there's a lot more to keep you busy than just music. You can enjoy free yoga, breathtaking mountain views and, of course, those brews. 
Seattle, Washington
The running joke is that Seattle waits until July to start summer—and in reality, it's more like August. But the good part about that is that you can enjoy summer weather until late September, and it's a great time to visit the Emerald City. The fall rainy season hasn't started yet, the summer crowds have started to dissipate, and you can still enjoy some Mariners baseball. There are always events and festivals happening at the Seattle Center and the Waterfront, most notably Labor Day weekend's Bumbershoot. And Seattle traffic won't be a big deal when you're cruising around in a Seattle luxury car rental.
Tampa, Florida
Florida is home to some of the most scorching summers in the country. But the month of September brings slightly cooler temperatures, especially in the Tampa area. Tampa is a great place to go with your kids… not only for the budget-friendly travel deals you can find, but for the attractions. The Florida Aquarium, the Giraffe Ranch and the Safari Wilderness Ranch will delight your pint-sized passengers. 
Reno, Nevada
The Biggest Little City in the World often loses tourists to the glitzier, more glamorous Las Vegas, but Reno has a lot to offer the gambler and non-gambler alike. Enjoy some live entertainment, casinos, a great dining scene and the relatively uncrowded streets. Reno is also close to Lake Tahoe, so take a day trip in your rental car and enjoy the breathtaking scenery.
San Francisco, California
The trolleys, the tours, the Golden Gate Bridge… there's really never a bad time to visit San Francisco. September is particularly pleasant weather-wise, and you might be able to score an early fall deal on accommodations. So take a trip to "Frisco" and enjoy all it has to offer.
Santa Barbara, California
Perhaps a more quiet California experience would better suit you? Santa Barbara's hotel prices dip tremendously in September, so it's a great month to relax in the "American Riviera." And believe it or not, the September weather can be better here than a hot July day. 
Nashville, Tennessee
Music City is such a beautiful place. You can enjoy incredible live music from hopeful country stars, take a tour and see famous singers' homes, and enjoy some delicious farm to table dining. September 17-18 are the dates for this year's Music City Food & Wine Festival, featuring cooking demos from famous celebrity chefs and the musical multitasker Trisha Yearwood. 
Salt Lake City, Utah
Salt Lake City is a picturesque and pristine place. While it's best known for its LDS temples, there's a lot to see and do here. The Utah State Fair comes to town in September, and you can enjoy scenic drives along the Big or Little Cottonwood Canyons. Plus, the end of summer means the end of major crowds and sky-high prices. 
New Orleans, Louisiana
The high temps and humidity tend to calm down a bit in September, and there's always a lot going on in the Crescent City. The New Orleans Burlesque Festival is held mid-month, and there are always plenty of live music venues and shows to take in. And with a lack of Mardi Gras crowds, you'll have your pick of places to explore.