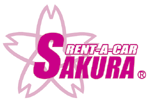 You are renting with
Sakura Rent A Car
Company Profile
---
Pickup / Dropoff Services
Sakura Rent A Car provides pickup / dropoff services. Sakura Rent A Car will pick up or drop off within a three mile radius.
---
Airport Service
Sakura Rent A Car provides airport pickup and dropoff services. Please call our office on arrival. Then because of security restrictions at LAX, customers will pick up the LAX Shuttle bus at the Blue sign across from baggage claim and take it to the Off Airport Car Rental Terminal. Sakura van will be waiting for you.
---
We serve the following markets
Insurance Replacement Rentals
Local Renters
Conventions / Special Events
Airline Employees
Corporate Clients
Long Term Renters
Travellers
Our rental agents are fluent in Japanese.
---
Special Services
Sakura has shuttle service to and from LAX.
---
Age Requirements
Minimum Age: 21While we rent to parties between 21-24, there is a $ 10.00 per day surcharge. 25 and over there is no surcharge
---
Cash Deposit Rentals
International renter only
---
Locations and Local Area
Sakura Rent A Car has the following locations:
Los Angeles Airport (LAX)(Los Angeles, CA)
Sakura Rent A Car is currently located in California, but has plans to expand into other areas in the future.
---
Corporate Address
Sakura Rent A Car
5250 W Century Blvd #100
Los Angeles, CA 90045United States
---
We rent the following types of vehicles
Cars
Vans
SUVs
Luxury
Specialty