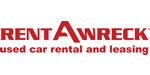 You are renting with
Rent-A-Wreck Of Presque Isle
Company Profile
History
We are a progressive and aggressive company. Our objective is to be the best and sole provider of rental vehicles in Aroostook County. We have 32 vehicles in fleet and a host of corporate accounts to our credit. We have accomplished a lot in our short time and we are here for the long run.Years in business: 1 Real Reviews From Real Renters
---
Pickup / Dropoff Services
Rent-A-Wreck Of Presque Isle provides pickup / dropoff services. Local pickup/delivery/dropoff is available. Please call to set up time and availability.
---
Airport Service
Rent-A-Wreck Of Presque Isle provides airport pickup and dropoff services. We are located within 2 miles of Northern Maine Regional Airport (PQI). We do offer a low-cost alternative to the high prices of our on-site competitors. We will pick you up regardless of flight time and departure time. Thank you.
---
We serve the following markets
Association Members (AAA / AARP)
Travellers
Local Renters
Tour Groups
Conventions / Special Events
Special Group Rates
Long Term Renters
Students / Young Drivers
Insurance Replacement Rentals
Travel Agents
Corporate Clients
Government
Military
Airline Employees
We have not created a niche for our company. We are here to provide rental vehicles to Aroostook County.
---
Special Services
All of our vehicles are covered by a national roadside assistance plan. We do offer pickup and dropoff service. Shuttle service is available 24/7 for our airport customers. Please call with any questions/comments/complaints.
---
Age Requirements
Minimum Age: 2121 with a major credit card and proof of insurance.
---
Cash Deposit Rentals
Rent-A-Wreck Of Presque Isle accepts cash deposit rentals.We require 1. Amount of rental. 2. $250 security deposit. 3. Proof of residence via utility bill. 4. Valid drivers license.
---
Locations and Local Area
Rent-A-Wreck Of Presque Isle has the following locations:
Presque Isle(Presque Isle, ME)
Houlton(Houlton, ME)
Presque Isle Airport - Off Airport(Presque Isle, ME)
---
Corporate Address
Rent-A-Wreck Of Presque Isle
64 Industrial Street
Presque Isle, ME 04769United States
---
We rent the following types of vehicles
Trucks
SUVs
Vans
Cars
Specialty
12 and 15 passenger vans. 14' box truck. Please call to confirm at your leisure.