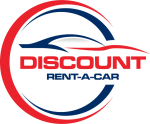 You are renting with
DISCOUNT RENT-A-CAR
Company Profile
History
Established in 2016 we have served the Orlando area for 5 years and have maintained excellent customer service while providing renters with competitively priced vehicles with a variety or sizes amenities to suit your needs. Years in business: 6 Real Reviews From Real Renters
---
Pickup / Dropoff Services
DISCOUNT RENT-A-CAR provides pickup / dropoff services. We go above and beyond to satisfy our customers and per request and availability due to staff can deliver your vehicle to your nearby hotel for an additional fee. This can save you from spending your own time and money finding transportation to us. Ask us today!
---
Airport Service
DISCOUNT RENT-A-CAR provides shuttle service to and from the airport. Airport Service requires renter to call location to request shuttle pickup/dropoff. We are located outside of the airport property. Otherwise feel free to coordinate your own transportation to and from our location.
---
We serve the following markets
Long Term Renters
Military
Airline Employees
Travel Agents
Insurance Replacement Rentals
Students / Young Drivers
Association Members (AAA / AARP)
Local Renters
Travellers
Tour Groups
Conventions / Special Events
Special Group Rates
Government
Corporate Clients
We specialize in rentals to travelers to Orlando Florida, cater to young drivers over 21 years of age, we accept all forms of payment; credit cards, debit cards and cash, however debit card or cash are subject to stricter qualifications and verification, and an additional surcharge. We do serve locals and offer solutions for travelers, business trip, vacationers, long-term rentals, and insurance replacements.
---
---
Age Requirements
Minimum Age: 21All rental drivers must be at least 21 of age or older and must have a valid, unexpired and unsuspended drivers license in order to rent any of our vehicles. Renting a vehicle for anyone else is prohibited and against our policies.
---
Cash Deposit Rentals
DISCOUNT RENT-A-CAR accepts cash deposit rentals.Debit or Cash rentals require 2 and 3 proofs of residency, respectively, as well as a $250 security deposit, refundable after the rental period and adjusted for any incidentals such as missing fuel, tolls, cleaning, damages, and the like. Proofs of residency means recent bills (utility, phone,cable no more than 30 days old), mortgage/lease documents, paystubs, tax returns; where renters name and address must match on all documentation
---
Locations and Local Area
DISCOUNT RENT-A-CAR has the following locations:
Orlando International Airport(Orlando, FL)
within 15 mins drive from our local area you will find 2 major shopping malls, restaurants and food places for all types of food, hotels for lodging including our own Sleep Inn Hotel, and Tourist attractions on the famous international drive, as well as the famous Sea World and Universal Studios. Disney and all its theme parks are within 30 mins drive.
---
Corporate Address
DISCOUNT RENT-A-CAR
1700 Mccoy Rd
Orlando, FL 32809United States
---
We rent the following types of vehicles
Trucks
SUVs
Cars
Vans
Luxury
Our fleet consists of Honda, Toyota, Cadillac, Nissan, Chevrolet, Dodge and Chrysler and you will have a rich selection from standard sedans to full size sedans, luxury vehicles loaded with amenities, minivans, or SUV to suit your taste and needs.