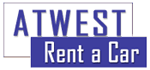 You are renting with
Atwest Rent A Car
Company Profile
History
We started our business in city of San Diego on 01/01/2001. Our primary focus has been to provide lowest all-inclusive rates online and provide rental cars to almost anyone with valid driver's license. We rent to renters as young as 18, to international drivers and to people without major credit card.Years in business: 10 Real Reviews From Real Renters
---
Pickup / Dropoff Services
Atwest Rent A Car provides pickup / dropoff services. Free local pick provided within 2 miles.
---
Airport Service
Atwest Rent A Car provides airport pickup and dropoff services. Free pick up is provided after calling us at 877-404-0404.
---
We serve the following markets
Travellers
Local Renters
Conventions / Special Events
Long Term Renters
Students / Young Drivers
Military
Government
Corporate Clients
Insurance Replacement Rentals
Travel Agents
Airline Employees
Association Members (AAA / AARP)
We specialize in mostly international, young drivers and insurance rentals.
---
Special Services
We offer a shuttle service to and from LAX airport.
---
Age Requirements
Minimum Age: 18We rent to drivers 18 and over.
---
Cash Deposit Rentals
Atwest Rent A Car accepts cash deposit rentals.For cash rentals: If the renter is from out of town, we need a valid driver license, a minimum cash deposit of $350.00 and proof of itinerary. If the renter is local, we need a cash deposit, a valid driver license, a utility bill and pay-check-stubs. For cash rentals go to atwestrentacar.com and click on cash rental link.
---
Locations and Local Area
Atwest Rent A Car has the following locations:
Los Angeles(Los Angeles, CA)
In San Diego California we are located near the airport, Seaworld, the Harbor and close to the beach. We are also near both HWY 5 and 8 which are two major HWYs in San Diego. In Los Angeles, we are less than a mile from the airport and close to Marina Del Rey and just a few miles from Santa Monica.
---
Corporate Address
Atwest Rent A Car
5777 West 98th St
Los Angeles, CA 90045United States
---
We rent the following types of vehicles