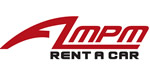 You are renting with
AMPM / Priceless Car And Truck Rentals
Company Profile
History
AMPM Car Rentals has lived up to its core values of Customer Service and Customer Service Satisfaction. We have evolved into becoming not a major player yet but we are worth being noticed and acknowledged because of our approach and higher than industry standard of performing up to the expectations of you.. out customers. 8 years ago we started with 1 car at our flagship branch in West Los Angeles * Culver City and have grown to over 200 cars currently, we have expanded in the last month and introducing our NEW LOCATION AT LAX INTERNATIONAL AIRPORT which will eventually be serving LAX Airport AND ITS SURROUNDING AREAS AND HOTELS. The management and owner team has over 20 years experience in this industry and have managed car rental ground up from its inception 20 cars to its pinnacle 3500 cars with success and laurels. This venture is just a start and would would like you all to be witness to our growth as a major player in car rental in the coming few years. We thank you all for your support and commit our self to value and treat customer with respect and the most important person and a vital component of our structure. Thank you once again for giving us the opportunity to serve you for your rental car needs...Years in business: 5 Real Reviews From Real Renters
---
Pickup / Dropoff Services
AMPM / Priceless Car And Truck Rentals provides pickup / dropoff services. Easy Shuttle Ride: After you come out of the BAGGAGE CLAIM area, go under the RED SIGN (HOTEL SHUTTLE). Take the RENNAISANSE Shuttle, get off at the Hotel and walk past the check in counters. At the end of the Lobby take the Garage Elevator to the 4th Floor. LOCAL RENTERS / RENTERES WITHOUT BOARDING PASS PLEASE REFER TO TERMS AND CONDITION FOR MILEAGE AND DEPOSIT RESTRICTIONS.
---
Airport Service
AMPM / Priceless Car And Truck Rentals provides airport pickup and dropoff services. Qualifications for renters and additional renters / additional drivers: Unlimited miles are allowed only if you have a BOARDING PASS / deplaning on the day of rental and RETURN AIRLINE TICKET along with a Major Credit Card. ALL OTHER DRIVERS ARE ALLOWED 10MILES/DAY AND CAN DRIVE IN LOS ANGELES COUNTY ONLY. NOTE: ALL CARS ARE AUTOMATIC SHIFTS. MANUAL CARS / STICK SHIFTS ARE NOT RENTED BY OUR COMPANY. REQUIREMENTS TO RENT : Drivers License / Major CC / Full Coverage Insurance (Declaration page should be sent to our email address AMPMCARRENTALS@GMAIL.COM.) **Local renters not flying into LAX and renters without a boarding pass or return airline ticket, please review the local policies before booking/reserving the car (additional conditions apply). Valid US or International drivers' license (Original) All renters should have in their possession proof of minimum CA Liability Insurance (Declaration Page) or can be purchased at the counter (cost $12 - 15/day). Back to back (CONTINUOUS) online reservations are not permitted there should be a gap of at least 5 days between two reservations. EXTENSIONS OF CURRENT RENTAL HAS TO BE IN PERSON AND WITH APPROVAL FROM OUR OFFICE (min $30/extra day in additional to daily rates). No Refunds for: Unused / Extra Gas /Early Returns Cancellation: MIN 1 DAY OR $50 CHARGED IF CANCELLED WITHIN 25 HOURS OF PICK UP TIME Reservation are automatically cancelled after 2 hours of pickup time. FULL CHARGE FOR NO SHOW or returned any time. All cars are cleaned reasonably and if dissatisfied renters can get the car normal washed and provide the receipt for reimbursement (up to $12 / rental). Admin fees for any and all traffic violations / tickets / tolls etc is $50 Cars should be extended / renewed minimum 24 hours prior to return date (time)
---
We serve the following markets
Association Members (AAA / AARP)
Travellers
Local Renters
Government
Military
Airline Employees
Travel Agents
Insurance Replacement Rentals
Students / Young Drivers
Long Term Renters
Special Group Rates
Conventions / Special Events
Tour Groups
Corporate Clients
We cater to local city clients and our airport and international clientele. We treat and give our 100% attention to our customer needs and make the rental car experience an enjoyable experience.
---
Special Services
All our vehicles are well maintained and we stand by its performance, we are availiable for any emergencies 24/7. Pick-up and drop-off service is available during our business hours (0800am to 0800pm) and is efficient to pick up and drop of customers to and from the Airports. Scheduling, of course is highly desired.
---
Age Requirements
Minimum Age: 25We do rent to drivers under the age of 25 provided they have: Major Credit Card with adequate deposit We charge $20/day as underage fees Additional drivers are not permitted Should provide at least Liability Insurance (Verifiable Proof) ABSOLUTELY NO DRIVERS TO BE UNDER 21
---
Cash Deposit Rentals
Local renters policy - local renters not flying into LAX and renters without a boarding pass or return airline ticket (RESERVATION SHOULD BE MADE AT LEAST 72 HOURS IN ADVANCE): Debit Cards are not accepted for rental payments. Local renters are allowed 10 miles free per day Local Renters can drive only in Los Angeles City and Vicinity areas (25 miles radius). $1000 should be deposited as security deposit IN CASH OR CASHIER CHECK FROM A MAJOR BANK prior to rental start date. (FUNDS WILL BE REFUFNDED AFTER 48 HOURS OF RETURNING THE CAR) ADDITIONAL MILES ARE CHARGED AT $.39 (FOR ALL LOCAL RENTERS). Local renters should provide proof of full coverage insurance (financial responsibility) for renting. THE FUNDS WILL NOT BE AVAILABLE FOR YOUR USE UNTIL AFTER THE VEHICLE HAS BEEN RETURNED (upto 15 business days) or YOUR BANK HAS APPLIED THE MONEY BACK TO YOUR ACCOUNT. PREPAID DEBIT AND OR GIFT CARDS ARE NOT ACCEPTABLE METHODS OF DEPOSIT.
---
Locations and Local Area
AMPM / Priceless Car And Truck Rentals has the following locations:
Los Angeles - LAX Airport(Los Angeles, CA)
City of Dreams and Dream Come True is how you can describe Los Angeles. People either love it or hate it—but no matter what, Los Angeles makes no excuses and changes itself for no one. And you've got to admire that. Made up of dozens of communities, there is not one single experience that can sum up the life and heartbeat of this city. But what can be noted about Los Angeles by both tourists and locals alike is the hustle-and-bustle lifestyle, the vibrant and unique neighborhoods, and the extreme diversity that sets it apart from any other city. From the eternal sunshine and Hollywood glitz to all the small communities with their own distinct cultural personalities, this City of Angels will forever be many things to many people. Downtown While not exactly in the center of town geographically due to the sprawling nature of the city, Downtown Los Angeles is still teeming with activity. There are cultural hotbeds like Olvera Street and Chinatown that are just minutes away from Los Angeles landmarks like the Bank of America Building and the Walt Disney Concert Hall . And if you have a hankering for more art and culture while Downtown, the Museum of Contemporary Art (MOCA) is a definite must-see. Hollywood The big sign just about says it all: Hollywood is glitz, glamor, and unavoidable. While many people are critical of Hollywood, they still can't help but satiate their curiosity by visiting this busy area. The center of things is, without a doubt, Hollywood Boulevard, location of world-famous tourist spots including Grauman's Chinese Theater , the Hollywood Walk of Fame , and the Kodak Theatre where the Oscars are now held annually. The Miracle Mile/Hancock Park area is another of L.A.'s historical neighborhoods. Here you will find Wilshire Boulevard's Museum Row . The museums are contained within Hancock Park , a small but peaceful oasis in the center of hectic urban activity. To venture into the far distant past, stop by the La Brea Tar Pits ; and to immerse yourself in a famous museum, the LACMA: Los Angeles County Museum of Art is a popular attraction on Miracle Mile. Ritzy West Hollywood is home to one of the city's most famous (or infamous) attractions: the Sunset Strip . Here you'll find most of the city's hippest clubs frequented by up-and-coming actors and socialites, as well as some of the city's finest hotels and shopping, including the upscale Melrose Avenue Shopping District . West Hollywood is also the center of the city's gay and lesbian community, and it puts on one of the flashiest and most exhilarating annual Halloween parades in the state. Beverly Hills & the Westside This world-famous city with its world-famous zip code is synonymous with wealth, status, and celebrity. The understated elegance and grace of the residential neighborhoods are balanced out by Rodeo Drive , which offers some of the finest—and most expensive—shopping in the world. Santa Monica & Bay Cities Back in the heyday of Route 66, Santa Monica was the end of the line. Today, this beachfront community offers the best in entertainment for all ages on its famous Santa Monica Pier . You can enjoy some carnival-style food and games or take a ride on the ferris wheel for a breathtaking view of the city and shoreline. When you're ready for some shopping, the active Third Street Promenade has a diverse directory of stores and eateries. The motto of the coastal community of Malibu is "27 miles of scenic beauty"—and that just about describes it best. The main attraction here is the drive along the Pacific Coast Highway, which takes you past beach after beach on one side of the road and million-dollar hilltop estates on the other. Make sure you have plenty of film and sunscreen. Even at night, the stars just seem brighter. Venice, just south of Santa Monica, is the city's home to all things eclectic and many things downright bizarre. This small, artsy beach town offers one of the greatest collections of cafes, bars, galleries, antiques and one-of-a-kind shops around. Weekend afternoons on the boardwalk are definitely a memorable experience for any visitor to the city. San Fernando Valley On the other side of the Hollywood Hills sits "The Valley," as known by locals. It features a seemingly endless sea of suburban cul-de-sacs, strip malls, funky shops and restaurants. Hollywood makes its presence known in the cities of Burbank and Universal City, which are home to Warner Bros. Studio and Universal Studios . There are two things you can always count on in the Valley: the earthquakes always feel stronger, and the temperature is always 10 degrees hotter. South Central & Compton Although the South Central neighborhood of Crenshaw gained worldwide publicity as the center of the infamous 1992 riots, this area is rich in history and culture. South Central is also home to famous Los Angeles landmarks such as the Watts Towers , the historic Shrine Auditorium , and Exposition Park . Within the famed Exposition Park is the Los Angeles Memorial Coliseum , the Natural History Museum of Los Angeles County , the California Science Center , and the IMAX California Science Center . It has also long been a place of culture and diversity, as evidenced by the African American Cultural Center . Cities in Los Angeles County and its surroundings of interest: Agoura Hills · Alhambra · Arcadia · Artesia · Avalon · Azusa · Baldwin Park · Bell · Bell Gardens · Bellflower · Beverly Hills · Bradbury · Burbank · Calabasas · Carson · Cerritos · Claremont · Commerce · Compton · Covina · Cudahy · Culver City · Diamond Bar · Downey · Duarte · El Monte · El Segundo · Gardena · Glendale · Glendora · Hawaiian Gardens · Hawthorne · Hermosa Beach · Hidden Hills · Huntington Park · Industry · Inglewood · Irwindale · La Cañada Flintridge · La Habra Heights · La Mirada · La Puente · La Verne · Lakewood · Lancaster · Lawndale · Lomita · Long Beach · Los Angeles · Lynwood · Malibu · Manhattan Beach · Maywood · Monrovia · Montebello · Monterey Park · Norwalk · Palmdale · Palos Verdes Estates · Paramount · Pasadena · Pico Rivera · Pomona · Rancho Palos Verdes · Redondo Beach · Rolling Hills · Rolling Hills Estates · Rosemead · San Dimas · San Fernando · San Gabriel · San Marino · Santa Clarita · Santa Fe Springs · Santa Monica · Sierra Madre · Signal Hill · South El Monte · South Gate · South Pasadena · Temple City · Torrance · Vernon · Walnut · West Covina · West Hollywood · Westlake Village · Whittier
---
Corporate Address
AMPM / Priceless Car And Truck Rentals
9620 Airport Blvd.
Los Angeles, CA 90045United States
---
We rent the following types of vehicles
Specialty
Luxury
SUVs
Trucks
Cars
Vans
AMPM Car Rentals belive in the right of our customers to be treated with respect. We strive hard to bring the best of the industry standards We are dedicated to the customer satisfaction We take great pride ourselves in providing a variety of select quality vehicles of all types and models of vehicles. Our fleet varies with a mix ran ge of vehicles ranging from the but all of them are later than 2000 to today's newer makes and models, bringing you a variety of cars, vans, and trucks to fill your rental needs, budget, and taste. We give a personal touch to our transaction and know you better. Policies are what works and is preferred by you our beloved customers. Whether you choose a 19.99 economy class, a more spacious full size model, a cool convertible, a passenger van for the whole family, or a cargo van or moving truck to shuttle your stuff in; you'll agree our tiered rate plans offering you more ways to go and save. We appreciate you visiting our web site and hope to see you in person. Be assured your satisfaction is our #1 priority. Our Brands include but are not limited to Toyota, Honda, Chevy, Chrysler, Dodge, Suzuki, Ford, and a lot more Out Car Models include but not limited to Camry, Accord, Civic, Corolla, Chrysler 300, Pilot, Venture, Cargo Van, Passenger Van, Odessey, and more. Call us to know more about US, about our Cars, and Judge yourself our superior service.