Enter the City or Airport name below to get Rate Quotes and Renter Ratings for independent car rental agencies around the world
About Agency Comparison
The Agency Comparison gives you valuable information on 100's of independent agencies in over 2,000 cities, worldwide. You can quickly read about each agency's history, services, and rental policies. Combined with the Renter Rated™ reviews, provided by renters like yourself, you'll find the most suitable match for your car rental needs. This unique combination makes Car Rental Express the web's best reservation guide to independent car rental agencies.
What is the Renter Rated™ System?
Choosing the best rental agency for your needs can be tough - that's why Car Rental Express created the Renter Rated program. We let renters, just like you, give their feedback on agencies, scoring them on everything from "Staff Knowledge" to "Promptness of Service". This ensures you can make an informed decision nd enjoy a rental that meets your budget and expectations.
Reason to Love Renter Rated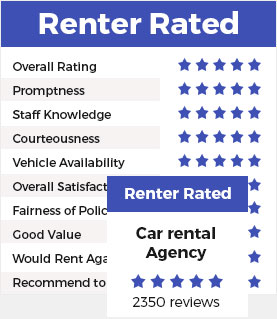 Real reviews from real people
Compare reviews by city
Easy to read ratings, plus a specific breakdown
Assurance of reliability and quality